Haunted Places In Scotland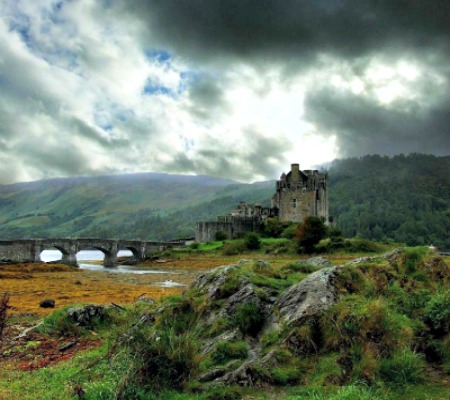 Welcome to the Haunted Hovel's list of the most haunted places in Scotland. From ruined clan castles in the highlands to the dungeon like vaults beneath the streets of Edinburgh, Scotland's got them all.
With such a rich history filled with turmoil and great clan battles, Scotland has the making's for some truly scary ghost stories as well as some interesting legends hundreds of years old.
Click one of the links below to view information on the locations history and of course, the tale of its haunting.


Featured Haunted Places In Scotland


Click a link below to view the location

Aberdeenshire - Balmoral Castle

Aberdeenshire - Craigievar Castle
Edinburgh - Greyfriars Kirkyard
Edinburgh - Ghosts of the Royal Mile


Other Haunted Places In Scotland


The A75

A length of the road in between Annan and Dumfries is said to be haunted, with apparitions appearing in the road and vanishing as soon as a vehicle gets to close.

Ackergill Tower
Thought to be haunted by a ghost named Helen Gunn, who was kidnapped by a man named John Keith. During her captivity she either jumped or was pushed from a window in the highest tower. Her ghost is said to still linger within the grounds wearing a long red ball gown.

Ardrossan Castle
This castle is said to have a very special ghost within its walls, during stormy nights the spirit of William Wallace himself is said to walk the ground.

Crathes Castle
A female ghost come to be known as the "Green Lady" haunts part of the castle.

Culcreuch Castle
Home to several ghosts, the most well known of which is that of a phantom harpist who has spooked many a guest by playing music from empty areas.

Dryburgh Abbey Hotel
Thought to be haunted by the ghost known as the grey lady who drowned herself in the nearby River Tweed after her husband was murdered.

Jedburgh Castle
Home to many ghosts and paranormal happenings. A ghostly piper is said to stand on the battlements and a strong presence has led many a guest to flee the area.

Mary King's Close
Thought to be haunted by the ghosts of plague victims who legend says, were locked within the tunnels to starve to death in an attempt to halt the spread of the disease.

Stirling Castle
Haunted by the spirit of a servant to Mary queen of Scots. She was murdered at the castle and is said to linger to this day.
Haunted places in Scotland - Back to top