Borthwick Castle, Midlothian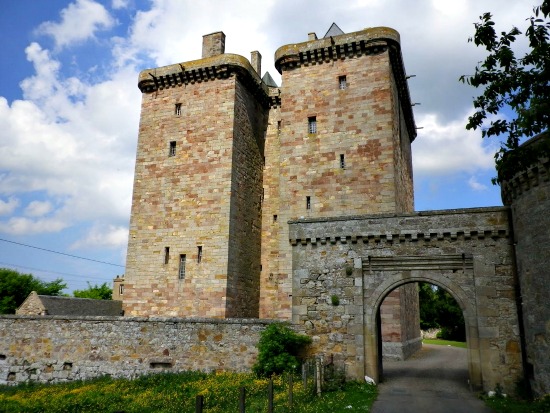 History


Built on an earlier defensive structure, Borthwick castle was constructed in 1430 by Sir William Borthwick and remains the Borthwick ancestral seat.
The castle certainly has seen its fair share of trouble, with Mary queen of Scots being besieged in the castle under the protection of the 6th Lord Borthwick. She was lucky to escape by dressing as a pageboy and climbing out a window.
The castle was also attacked by the forces of Oliver Cromwell and surrendered after only a few cannon shots were fired, and the damage from these shots can still be seen today.

After being abandoned for many years the castle was restored in 1914 and the used as a place to hide national treasures during the second world war.

Since 1973 the Borthwick family leased out the castle and it was turned into a hotel which mainly caters for weddings. It closed in June 2013 for extensive refurbishment and is intended to reopen during 2014.


Is Borthwick Castle Haunted?


Probably the most well known ghost story of the castle is that of Mary queen of Scots herself, though she didnt actually die here. During the year of 1567 she took refuge in the castle from other Scottish nobleman who wanted to capture her. She dressed as a page boy and even though the castle was surrounded by 1000 men she still managed to escape.
People ahve claimed to have seen her apparition dressed as the page boy climbing out of a window and running across the castle grounds.

There has been many ghost hunting groups that have visited the castle and their results show huge amounts of paranormal activity. Many thing have been witnessed here by investigators and guests alike, including apparitions, orbs, disembodied voices, thumping and clicking noises and people being overcome with intense emotions when in certain areas of the castle.

A writer for British Heritage Magazine named Betsa Marsh visited the castle and had this to say about it:
"The Red Room has spooked so many people that the owners called in an Edinburgh priest to exorcise its lingering spirits. Legend says that a young servant girl bore an illegitimate Borthwick son in the room. Mother and baby, potential threats to the title, were quickly put to the sword. In other era, the Borthwick family chancellor used this room, and the niches for his safes remain in the stone wall to this day. According to gossip, the Borthwicks discovered their chancellor was embezzling money from the family coffers. Eschewing the nicety of a performance review, they intercepted the chancellor on his way home from Edinburgh one evening and cancelled his contract by burning him to death. The ghosts of the young servant girl and the fired chancellor still wander the stony spiral staircases of Borthwick, some people say, and even the most stalwart visitors admit to feeling invisible presences in the Great Hall."
Borthwick Castle - Back to top