Balmoral Castle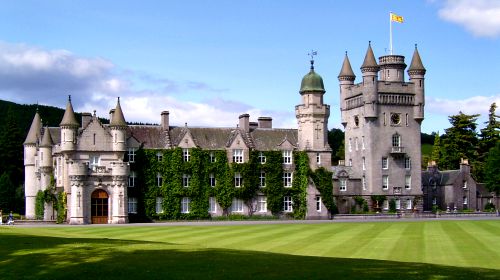 Brief History


Balmoral castle stands on an estate which has been here since the early 14th century, with the first house on the land being built by Sir William Drummond in 1390. But it isn't actually a castle at all, but rather a tower house, though they are often refereed to as castles due to the large imposing designs and features such as towers and large gatehouse's.


The original house was visited by King Albert and Queen for the first time on September 8th, 1848 and the couple found the house and area very pleasing, with Queen Victoria recording the following entry into her diary:

"All seemed to breathe freedom and peace, and to make one forget the world and its sad turmoil's"


King Albert bought the estate the same year but the royal's found the existing house to be far to small and so commissioned local architect William Smith to draw up plans for a new house, though Albert made a quite a few changes to these designs.


The foundation stone of the house was laid by Queen Victoria herself on 28th September 1853.


Today the estate is under the ownership of the royal family themselves as opposed to a crown possession, and the only areas open to the public is the gardens and the ballroom. It may go without saying but there is absolutely no chance of organising a paranormal investigation around the place.

Is Balmoral Castle Haunted?


There is thought to be only one ghost in Balmoral castle, but since there are such few areas open to the public and the fact that a ghost investigation will never happen, the total number can never be known.


The ghost who resides here is believed to be that of a man named John Brown, who was one of the grounds keepers when Victoria and Albert owned it. There is a story about how he and Victoria fell in love and had an affair, but of course this cant be proven and is hotly contested.


Whatever the reason he is here will forever remain unknown, but there have been a number of sightings of him over the years. His apparition has been seen mostly within the gardens, always wearing his traditional kilt.


Apparently there is even a royal witness to this John Brown character, which comes from Queen Elizabeth II, who claimed to have seen him in one of the corridors, as well as feeling his presence throughout the house.