Barcaldine Castle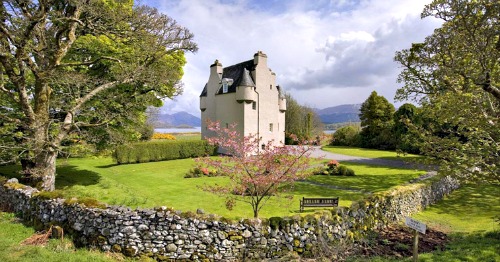 Brief History


Barcaldine castle is a 17th century tower house built by Sir Duncan Campbell of Glenorchy in 1601, with construction taking 8 years to complete. This style of tower house was especially popular in Scotland from the 16th to the 18th centuries and was a way of simply showing wealth, since they often offered little to nothing in the way of defences.


The Campbell family lived in the house until sometime during the 18th century when they gradually moved into the near by Barcaldine house. After this point the castle was left abandoned and began to fall into ruin. It wasn't until 1897 that Sir Duncan Campbell 3rd, Baronet of Barcaldine, began to restore his inherited family property and saved it from falling into disrepair.


Today the castle is ran as a luxury bed and breakfast and offers some stunning views across loch Creran, and it has also been known to allow ghost hunting groups to conduct investigations.

Is Barcaldine Castle Haunted?


The castle truly is a beautiful building sat in a beautiful spot, but that doesn't seem to make the difference when the sun goes down and spirits make themselves known.


As for spirits there is thought to be only one "known" ghost here, though various paranormal groups have picked up on a larger number of energies.


The ghost who haunts the castle is Donald Campbell, an heir of the homes creator, Sir Duncan Campbell. He was a sworn enemy of Stewart of Appin, another clan chief who he had a long standing feud with. One night Stewart was at Barcaldine castle when an argument broke out amongst the two, which ended in Stewart of Appin stabbing Donald with his sword, with him dying on the spot.


The Campbells were quite a powerful clan in the area and would undoubtedly seek revenge for the death of their leader. So Stewart came up with an ingenious plan to escape the heat, and that was to flee to Inverawe to stay with Donalds brother.


As highland tradition at the time dictates his brother took stewart in and gave him food and board, unaware of his hidden crime. After the initial search party for Donalds murderer had moved past, Stewart slipped out and fled back to his own territory.


After this Donalds ghost was said to have gone to his brother in Inverawe and tormented him over a crime he was not aware of. When his brother finally received word of Donalds death he was overcome with grief and seeing his brother's innocence the ghost of Donald Campbell returned to haunt the castle, where he remains to this day.


That's the most commonly told story behind the haunting of Barcaldine castle, though obviously there is a lot in there that can never be verified. As for the ghost itself people who have claimed to have seen him say he is always seen wearing the clan chief attire that he was murdered in, complete with the bloodstain on his chest.


He seems to be very random as to when he shows up, with years going in between reports of seeing him, though they always seem to pop up again sooner or later.