Mary Kings Close, Edinburgh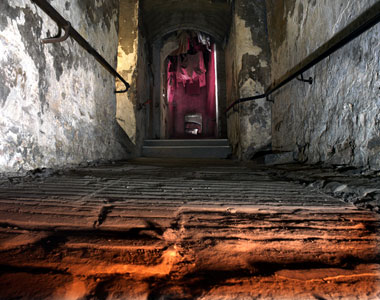 History
Mary Kings Close is an old Edinburgh Close (a type of tenement housing) under buildings in the Old Town area of Edinburgh, Scotland where many people worked, lived and died... Many of them died in the winter of 1644 and onward during 1645 because of the Black Death plague.
Dr George Rae was the acting doctor during this period and there is a figure of him in the close, wearing a thick leather cloak and gloves and also a herb-filled beak-like mask.
Hauntings
At closing time one night, the general manager, Stephen Spencer activated the infra-red camera to check that the computer system had been switched off for the night. The camera is static and was installed just a couple of months ago to take photographs of tourists, as a keepsake for them to take home. Stephen certainly got more than he bargained for; not only was the system still on, but a large ghostly image was captured apparently standing in front of the archway.
Very impressive EVP has also been captured at Mary Kings Close, during one of Richard Felix's events. One of the loudest and clearest was recorded in the house of Andrew Chesney. Chesney was the last resident at the Close, who vacated in 1897, but continued to work there until 1902. One of the staff asked "Are you sick of seeing us yet?" and the reply recorded said "Yes I am!". In another recording, staff asked "Would you like us to leave here now?" and a voice replied; "Just get out!"
Sound interesting? If so, you're in luck! Regular ghost walks are run through the close, which can be booked through the official site.
Back to the top of Mary Kings Close

Back to the list of UK haunted locations