Dalhousie Castle, Edinburgh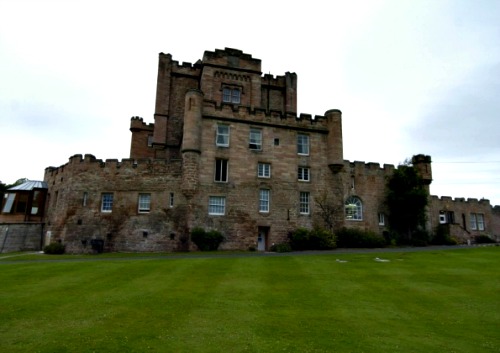 History


The present structure of Dalhousie castle was built in 1450, but the vaults and thick stone foundations from the previous building still remain, though only at foundation level.
The castle certainly has some interesting history, including being a rest stop for King Edward I, commonly known as Long-shanks, on his way to meet William Wallace at the battle of Falkirk.
The castle also managed to withstand a 6 month siege in the year 1400, when Sir Alexander Ramsay held out on a siege for 6 months against English forces led by King Henry IV. It was also used as a base by Oliver Cromwell during his invasion of Scotland.
The castle was built with defense in mind, as most castle's which weren't primarily residential seats were, with entry to the inside being through only one entrance, over a drawbridge and over a moat, thought the moat was filled in and later excavated when the building was turned into a hotel.
The dungeons of the castle were also particularly nasty, with prisoners having to be lowered into the dungeon by rope, with no fixed stair way or ladder in place.
The castle today now stands as a hotel and spa and is of course open to the public.

Is Dalhousie Castle Haunted?


The castle is the site of various forms of paranormal activity and home to a number of ghosts, the most well known of which is thought to be the ghost of Sir Alexander Ramsay himself. The story goes that he was starved to death in Hermitage castle after being taken prisoner by William Douglas, and since then his apparition has been seen roaming the castles corridors and grounds. 
The next most commonly sighted ghost is that of Lady Catherine who has come to be known as the "Grey Lady". She is most often seen standing on the battlements or down in the dungeon, staring blankly in front of her until fading away when someone gets to close.
There is other ghostly activity that goes on here, from footsteps echoing down empty corridors to objects being moved around on their own.
The castle has come to be so well known for its spooky goings on that is now holds regular ghosts tours were guests are told all about the unpleasant reasons that have caused spirits to linger here.
If you wish to visit the castle for a tour then please contact the venue directly to check availability and prices.
Dalhousie Castle - Back to top