Poltergeist


Some Poltergeist stories live on because of the sheer terror they brought into the lives of those who experienced them firsthand. For the most part, ghosts and apparitions are harmless to those who witness them, flickering briefly into view to perform some timeless task or to relay a message to a loved one, and then fading back into the unknown. Poltergeist activity, however, is another matter entirely.
Seeming to center around an individual, they produce physical phenomena that has been known to cause serious harm and otherwise scare the daylights out of its victims.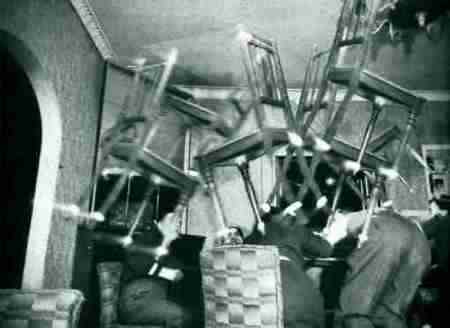 The meaning of the word comes from the German words for "noisy" and "spirit" and is defined as something that denotes an ostensibly paranormal phenomenon attributed to the presence of an invisible entity that manifests itself by creating noise or moving objects.
They are more common than people generally realize within the paranormal world, but its up to the skeptic to decide how genuine these cases are. The most reports come from the U.S, Europe, Japan and Brazil.

You can read some of the most amazing, scary & famous case studies by clicking the links below!


The Enfield case

The Smurl case

The Macomb case

The Rosenheim case

The Danny case

The Runcorn case

The Phelps case

The Amherst case

The Parker case

The Thornton Heath case

The Mackenzie case
---
So what are they?


They are very unusual and not particularly understood, due to them being very hard to actually test and experiment with. It's thought that spirits can "feed" off human energies, and this is one of the types of haunting possible as a result.
There have been hundreds of independent studies done on these particular types of haunting. A majority of the cases revolve around on individual or "agent" as they are called. The phenomenon seems to be linked to a type of subconscious psychokinesis (PK energy) on the part of the agent. The studies have discovered that most of the poltergeist agents are female, under the age of twenty and are totally unaware that they are involuntarily directing the poltergeist energy.
Can they hurt me?


Well, there are a large number of claims about people being hurt from an encounter, mostly from people being hit by an object which was thrown. It is only logical to assume that if a force is able to move and thrown objects then it would be possible for that force to cause harm to a person if it chose to do so.
Common behavior


The main way in which one makes itself known by is movement. There are various theories as to why this is the case, the most common of which is that the spirit just wants to express itself, very often with claims regarding the presence of one it is reported that the same item or one particular area is the focus point of the haunting, such as where a ghost haunts a certain room.
They seem to have repetitive behavior, such as moving the chairs in the kitchen round into a certain way, or throwing a certain item when its placed in a particular spot, almost as if it didn't like it being there.
Have something to say on this?
Have A Great Poltergeist tale to tell?
Do you have a great story you want to share?
What Other Visitors Have Said
Click below to see contributions from other visitors to this page...

small town haunting

at my old house in , Belle Union IN, me and my sister lived with our parents in a haunted house. i dont know what it was but the house was bad haunted. …
Lullaby in the Nursery

I'll start off by saying I am a skeptic when it comes to "ghost", I dont believe "ghost" exist, though I do believe in poltergeist because I am somewhat …
movie night.

One night my friend and I were watching a scary movie and we heard someone in the kitchen. We thought it was my brother until my dog started to bark and …
paranormal behaviour

it was round about 3 in the morning i just came home from a party and i was about to go to sleep. i heard some banging down stairs and i was curious to …
Father Christmas ?

On Christmas eve 2007 I was a 7 year old boy who had figured out that santa wasn't real. It was coming close to 12 at midnight and I started feeling some …
The Break In

So me and my sister and someone else were watching TV(George Lopez) while our mom's where at the casino and then we heard foot step's in the kitchen!. …
paranormal activity

It started when it was a full moon in my brothers old house which was about two hundred years old and there was two deaths in that house. I was …
Night Terrors... Not rated yet
I was about 6-7 years old... I was young, so I slept in my parents bed sometimes. One late night... I woke up to a screaming noise ( Parents are downstairs). …