The Mineral Springs Hotel, Alton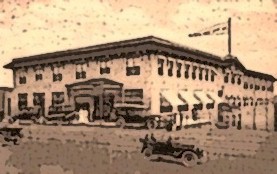 History
The Mineral Springs Hotel opened in 1914 and was built on a site that had a natural spring which many thought to have medicinal properties. The hotel went through hard times during the 1950's and eventually closed down in 1971. In 1978, the building was restored and turned into a mall with stores and restaurants, later adding an antiques mall. The building remains as such to this day.
Hauntings
Since it's re-opening in 1978, many stories of ghosts and murders taking place at the hotel have began to cirulate, how accurate these stories are however, seems unlikely to ever be known.
As for reports of hauntings, three ghosts are believed to be present at the hotel. The first and most commonly experianced is that of one known as the Jasmine Lady, who is believed to haunt the staircase near what used to be the lobby. The story goes that she fell down the stair case and broke her kneck, some versions have it that she was pushed by her husband after he found that she was cheating on him. Her apparition and heavy jasmine scent has been reported near the staircase by staff and guests alike.
The second is believed to be that of an artist who was staying at the hotel when it was open, whether he died within the building is unclear, but it is thought that he was unemployed and suffering from heavy depression, his apparition can be seen within one of the old guest rooms.
The third, and most menacing ghost haunts the old swimming pool area. The story originates from the 1920's when apparently, a woman was jealous that her husband was flirting with another woman so she hit him with her shoe, which caused him to fall into the pool and drown. Many people have reported seeing the apparition of a well dressed man walking around the sides of the pool.
Back to top of the Mineral Springs Hotel

Back to Haunted places in Illinois