Kent Masonic Temple, Kent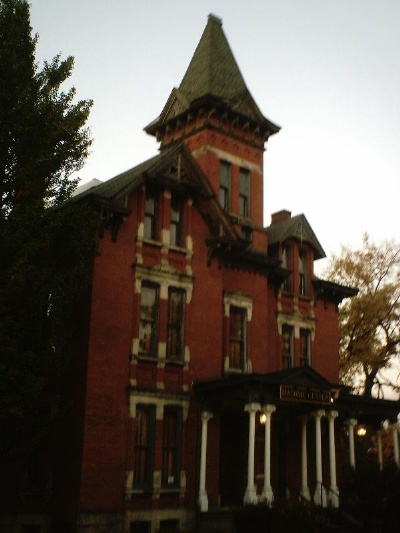 History
Kent Masonic temple was built between 1880 and 1884 and was originally the home of Marvin Kent, whom the city was named after. He was influential in bringing the Atlantic and Great Western Railroad through the village.
It has served as the home of the Rockton Masonic Lodge since 1923 and has been listed on the National Register of Historic Places since the 18th of June 1974.
Hauntings
There are two ghosts which haunt the building, the first is that of Kitty Kent, the wife of Marvin Kent. She died by being burned alive by the kerosene cooker on the third floor, activity from this spirit includes banging noises coming from the room when it is empty, and scratch marks appearing on the walls and floor of the room, as well as on an old french mirror that has since been moved from the room.
The other ghost at this location is thought to be that of Nellie Dingley, the first librarian to work in the Kent Free Library housed there. She died as a nurse during World War One. The only reports of activity from this spirit however include seeing an apparition of a lady wearing a 1930's nurse uniform roaming the area around the old library.
Back to top of the kent masonic temple

Back to haunted places in Ohio