Kelton house, Columbus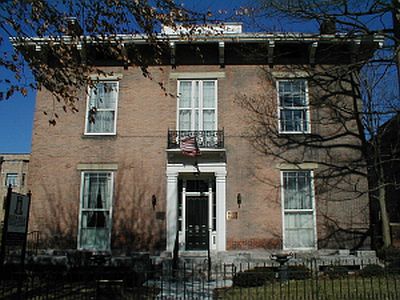 History
Kelton house was built in 1852, and was once a stop for the underground railway that ran through the area. Today it functions as the headquarters of the Junior League of Columbus, but is also rented out for weddings and parties and tours around the building are also available.
Hauntings
The main ghosts at the house are largely the Keltons, who built the house and occupied it until the last of them, Grace Bird Kelton, died on Christmas Day, 1975.
During renovation in 1976 the workers experienced many problems with the spirits, including the moving of furniture back into its original positions and the hiding of their tools. Also apparitions of both Oscar Kelton dressed in his Union soldier's uniform and Sophia Stone Kelton in period dress have been spotted inside or on the grounds.
A secretary with the Junior League reported seeing a man in a Union-blue infantry uniform standing close to the carriage house out back, could this be the ghost of Oscar? who died fighting the Confederates at the age of 18 and was brought back to Columbus to be buried.
"Sophia's Room," one of the bedrooms with the most spirit activity, is where Sophia Stone Kelton appears, sometimes dressed in blue, usually with a veil over her face as she gazes out the window. It is also said the Grace, the longest-lived member of the family, may also haunt the house.
You can visit the graves of the Kelton family behind the House at Greenlawn Cemetery. The Keltons have their own plot along the main path.