Hatley Castle, British Columbia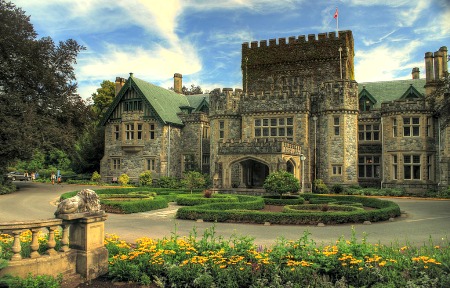 History


Hatley castle is a stunning early 20th century mansion which was to be home to the royal family during world war two. It was purchased by the federal crown-in-council in 1940 for the royals to live in for the duration of the war, however they chose to remain in London.
The 40 room mansion was originally built by Lieutenant Governor James Dunsmuir who bought the land in 1906 and quickly hired the renowned Canadian architect Samuel Maclure to design him the best home for many miles. The Dunsmuir's also created some of the most impressive gardens to match, hiring the best landscapers and gardeners money could buy.
In 1939 the family sold the estate to the Government of Canada it was used from 1940 until 1995 as a military college and then passed hands several more times. Today the property is used by the public royal roads university.

Is Hatley Castle Haunted?


The most well known ghost story of the castle is that it is haunted by a whole family of spirits, among other ghosts. The stories started when the property was sold in 1939 to the Canadian government and reports of hauntings came in thick and fast.
The son and daughter in the family have been seen walking around the pond just outside the castle together, with her wearing a flowing white dress and has been come to be known as the white lady, and yes i know every castle has one. He has been seen wearing a uniform from the first world war and is thought to have died fighting in Europe.
The family is thought to be that of the Dunsmuir's, though this is odd as the dates don't really add up for when the claims started, but its the most well known theory. Mrs Dunsmuir, or whoever she may be is definetly the most terrifying ghost if the claims are true.
When the property was used as a military academy she was known to actually drag cadets out of there beds during the night and pull them onto the floor, only to fade away a few seconds after they wake up, though this seems a little full on to me.
The other commonly reported paranormal activity here is the tampering of electronics. A couple who stayed in the castle with their baby daughter reported hearing crying coming through the baby monitor, but upon checking she was fast asleep. This happened a few more times before they unplugged it and checked there were no batteries in it, only to hear the crying come through it again.
The show has received its fair share of media attention and was featured on the show Creepy Canada.