Gibraltar Point Lighthouse, Ontario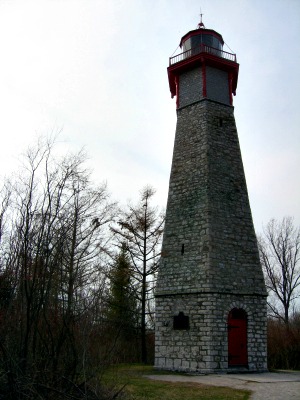 History


The Gibraltar point lighthouse started operating in 1808 after almost five years in construction. Originally built to a height of 52, it was extended in 1832 to a height of 82 feet to get further reach out for the ships. Funnily enough the first part of the lighthouse was made from stone took from Queenston and the extension with stone from Kingston.

The lighthouse originally used whale oil from 1832 onwards until switching to coal in 1863. The original wooded lamp structure was replaced with a steel one in 1878 for safety reasons, with electricity being introduced in the form of lighting in 1916, with an updated wiring system in 1945.
In the year of 1958 Metro Parks took over operations here and made extensive renovation from 1961 to 62. The lighthouse was also built directly on the shore line, but over time sand has built up in front of it and it now stands almost 100m inland. It is currently out of operation and closed, but stands as a symbol to Toronto's history as being part of the Great Lakes port.


Is Gibraltar Point Lighthouse Haunted?


There is a local legend about there haunting at the lighthouse. It isn't one of the most well known haunted places in Toronto but seems to be able to hold its own against other haunted places.
The story starts with one of the past lighthouse keepers, a man named John Paul Radelmüller who worked there during the early days of its operation. Since the lighthouse was on the main land and not especially big, there was no living quarters and John would go to work every night in a shift type pattern.
It was on the night of the January 2nd, 1815 when John left for his job as normal. Some time during the night a group of drunken soldiers from nearby fort York came across the lighthouse and thought it would be a good chance for some free booze, as lighthouse keepers were stereotypically known to drink a lot.

They knocked on the door and upon answering John soon saw their intentions. They chased him up the stairs and ended up knocking him out and considering the punishments for such actions during the day, which included execution, they decided to chop him up and hide his body.
What they did with the body isn't known, but during the year of 1893, a man named George Durnan found a coffin buried in the sand nearby that contained a jawbone, though it wasn't clear if this belonged to John or not.

Two soldiers were accused of his murder, John Henry and John Blowman, but they were later acquitted of these charges.
Now during mist filled night moaning can be heard from the lighthouse, with some people claiming to hear banging noises coming from the stairs when they are close to the door.
An apparitions has also been seen walking around the base of the lighthouse.
Gibraltar Point Lighthouse - Back to top