Fortress of Louisbourg, Nove Scotia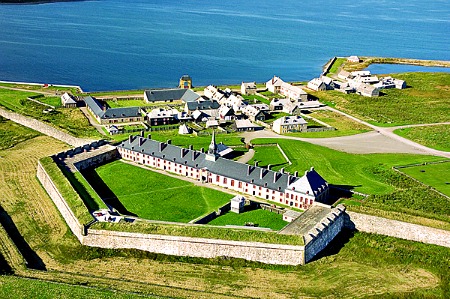 History


The roots of the fortress of Louisbourg started in 1713 when the settlement in the area was called Havre à l'Anglois. The village grew and became an important commercial port and consequently, the fortress grew to match it eventually surrounding the whole settlement.
The main defensive walls were built between 1720 and 1740 and the fortress was at the time, one of the most expensive and well made fortifications in the country.

The fort was built mainly as a defensive for the port, so its strongest defenses faced the water, leaving the land side less defended. Also its position on low level ground surrounded by hills didn't help it against any land based assaults.

The fort saw such an attack in 1745 when it was seized by British Colonists who held it until it was used as a major trading card for the 1748 treaty which ended the war of Austrian Succession. It was traded with France for towns in modern day Belgium.

Not long after this in 1758, it was captured back by British forces who's engineers destroyed the forts defenses after they left in 1768.

Reconstruction work on the fort began in the 1960's which saw some of the walls rebuilt. Today the site is owned by Parks Canada and is open as a tourist attraction.


Fortress of Louisbourg Hauntings


There's thought to be many ghosts at the fort, with at least 10 different spirits lingering inside the walls.
The four most well known paranormal experiences to be found at the fort include the ghost of a sea captain who has been said to appear right in front of visitors dressed in his typical captain gear, warning them not to fall from atop the walls.

The sounds of a nurse crying has been heard within many areas of the forts buildings, with people claiming to have seen her apparition walking through some of the rooms staring at the floor.

In the early hours the sound of a baby crying has been heard from within the grounds, though the source of the sound can never be detected.
Finally a violent spirit remains in the bakery area. It has been say to throw object and slide them across the floor, including that of 300 pound pieces of machinery..
Apart from the above four spirits the fort is filled with the ghosts of past soldiers stationed here. With some people even claiming to see a line of them on the walls preparing to fire their muskets.

Fortress of Louisbourg - Back to top