Fort Mifflin, Philadelphia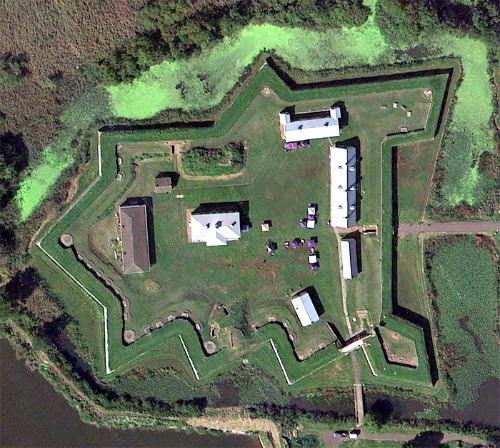 History


Sitting on Mud island on the Delaware river, Fort Mifflin has certainly seen its fair share of troubles. Commissioned in the year 1771 the fort was captured only 6 years after being built by British forces who heavily bombarded the fort before taking it during the American Revolutionary war.
After US forces took the fort back they rebuilt it in 1794 and it was permanently garrisoned and regularly built on through out the 19th century.

During the American civil war it housed hundreds of confederate prisoners as well as defected Union troops and political prisoners. The most well known prisoner was that of William H Howe who was a Union soldier guilty of desertion. He led an escape attempt of 200 prisoners from casemate number 5 were he was kept, though it was not successful and he was captured in the attempt.

The last notable military use of the fort was during the second world war when it housed anti aircraft guns to defend a nearby ammunition storage depot and Philadelphia's naval shipyard, though it never saw any action.
The US army decommissioned the fort in 1962 and it was returned to the City of Philadelphia. A lot of the fort has been restored and is open today as a tourist attraction.


Is Fort Mifflin Haunted?


The fort is said to be one of the most haunted places in America and has seen many ghost hunting groups come to investigate, including that of TAPS and the Ghost Hunting Academy. As you can imagine with the fort having the history it has had this provides the foundations for a good haunting, with the many deaths from its battle with the British and when used as a prison executions and cell deaths were not uncommon.
There's thought to be many ghosts at the fort with different groups coming up with different answers, buts its generally agreed to be at least 10. One of the most well known and active ghosts is known as the screaming woman. She has been described as being of all ages by the people who have seen her and she is said to haunt the officers quarters. She has been heard screaming so loudly from within this room that the police have been called a number of times, but whenever someone goes into the room to investigate there is no one to be seen.

An unusual ghost ship has also been spotted near the fort. The name of the ship or why it lingers at the fort is unknown, but it has been seen on a number of occasions and been described as being made up of a ghostly mist like formation.

Casemate number 11 is thought to be the hot spot of the fort, with everything going on here from apparitions to poltergeist type activity.
Private ghost hunting investigations can be booked at the fort if you wish to search out some spirit's yourself. Please contact the venue directly to organize such a booking.

Haunted Places in Pennsylvania