Villisca Axe Murder House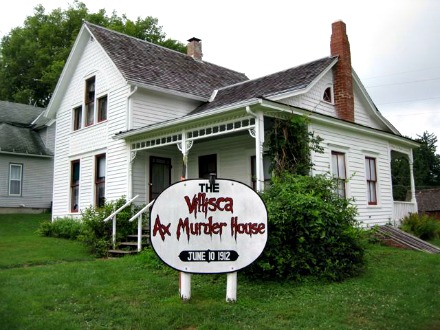 Is The Villisca Axe Murder House Haunted?


The Villisca Axe Murder house has become quite a famous haunted spot in the state of Iowa. Probably due to the brutality of the crime and the fact that it was never actually solved. The house itself is nothing special, just a small house on a quiet street in an ordinary town, but what happened here on the early hours of June 10th, 1912 will forever be remembered.
The house was occupied by the Moore family who consisted of 6 people. They were Josiah, aged 43 and his wife Sarah, 39 and their four children, Herman (11), Mary (10), Arthur (7), and Paul (5). They were a well known and widely liked family in their neighborhood who were just going about a normal day.

On the 9th Mary was allowed to have two of her friends stay over for the night, they were Ina Mae (8) and Lena Gertrude Stillinger (12). On the evening the family and the two girls attended the Presbyterian church where they participated in the Children's Day Program coordinated by Sarah Moore. The program finished at 9:30pm and the group got back home shortly afterwards.

Everything was as normal in the evening and the family went to bed with no signs of anything unusual going on. The next day the Moores neighbor, Mary Peckham was concerned she had not seen any of the family tend to their chickens or do any morning chores so she knocked on the door, only to be met with silence, so she tried the handle to find it was locked.
She eventually called Josiah Moore's brother who after arriving and getting no answer either unlocked the front door with his copy of the house key. He went inside to find the family and opened the door to the guest bedroom were he saw Ina and Lena's dead bodies. He immediately called the towns peace officer who arrived quickly and searched the house to find the whole family had been murdered.

The family and their two guests had been killed by a combination of deep cuts and bludgeoning wounds from an axe which was found in the guest bedroom next to the Stillinger sisters.
The crime was never solved and no motives could be established. Several suspects were questioned but no convictions were ever made and to this day the crime remains unsolved.
As for the paranormal activity at the house there's pretty much everything you can imagine. Ghost tours have been conducted at the house and some have even been cut short due to strange noises such as children crying and whispering from inside empty rooms. Objects being moved, sometimes right in front of scared visitors is a common occurrence at the house, and psychics have detected the presence of pain filled spirits.

Villisca Axe Murder House - Back to top