Is The Uss Salem Haunted?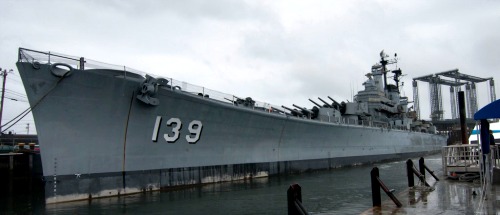 Brief History


The Uss Salem took almost 4 years to build, with Bethlehem steel Co's Fore river shipyard beginning construction on the 4th July, 1945. It was commissioned on the 14th May, 1949 and featured the worlds first automatic 8" guns, and also the first 8" naval guns to use cased ammunition.


For such an expensive well built ship it lived a relatively short life, with it being de-commissioned on the 30th January, 1959, when it was moved to Philadelphia and stored as part of the Atlantic reserve fleet.


Since the ship was never called up for service again out of the reserve fleet, it became outdated and the cost of changing all the weaponry and engines was simply not worth it. In October of 1994 the ship was sailed out of Philadelphia shipyard and moved back to her home in Quincy harbour.


Today the ship still stands moored up in Quincy harbour and acts as a museum ship as part of the United States Naval ship building museum. It is open to the public all year round and has been known to allow ghost tours. The ship has even been featured on the TV series "Ghost Hunters".




Is The Uss Salem Haunted


Since the Uss Salem never saw any combat its hard to think it is as haunted as people say. The ship actually never really saw anything more than a lot of manoeuvres and gun training at guantanamo bay, but the haunting is thought to have come from a disaster in 1953.


Since the ship was of considerable size and within the damage zone it was converted into a hospital to deal with the devastating 1953 Ionian Earthquake. The ship saw many casualties of the quake come for aid here, and with medical treatment being what it was in the day many of them did not leave the ship alive, and a lot of people would say at all.


As for actual reports of paranormal activity the stories are pretty typical. Apparitions of the civilians who died on the ship during its use as a hospital, and also from past sailors who people have claimed to have seen wearing full uniform.


Other stories include everything from orbs and electrical equipment acting strangely to wet foot prints in corridors and rooms were there is no explanation as to how they got there.


There is said to be a ghost hunting group who have their headquarters on the ship and offer regular ghost tours, though I do not know if they are still in place. It has also been listed as one of the top 5 haunted places in Massachusetts.
Haunted Places in Massachusetts