Thornewood Castle, Tacoma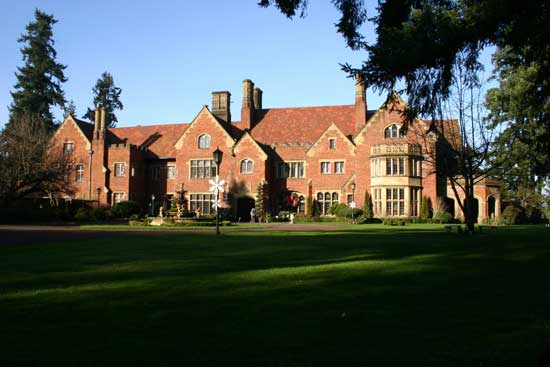 History
Built to last the centuries, Thornewood Castle is constructed with concrete and steel on a solid three-foot-thick foundation. Exterior walls are brick and concrete with steel reinforcement. The floors are ten inches of concrete.
Construction took three years to complete, from 1908 to 1911, with many of the materials, including the brick, oak paneling, oak staircase and the medieval stained glass coming from a castle in Europe. Three ships were commissioned to transport these building supplies around Cape Horn to the Pacific Northwest.
The building today serves as a luxurious inn with beautiful gardens.
Hauntings
Today, the historic castle is said to host a number of spirits that refuse to leave, either for their love of the manor or for the tragedies that occurred over its long history. The most prevalent sighting is that of Chester Thorne himself, who was the original owner who built the residence, he has reportedly made several appearances over the years. In what was his former room, light bulbs are often found to be unscrewed.
Others have reported seeing Anna, Chester's wife, sitting in the window seat of her room, overlooking the garden. Anna's room is now the bridal suite which contains an original mirror from her time, where guest have reported seeing her reflection.
Reportedly, the grandchild of a former owner drowned in the lake and occasionally guests have seen a small child standing alone by the lake, only to rush down and find no one there.