Tamworth Castle, Staffordshire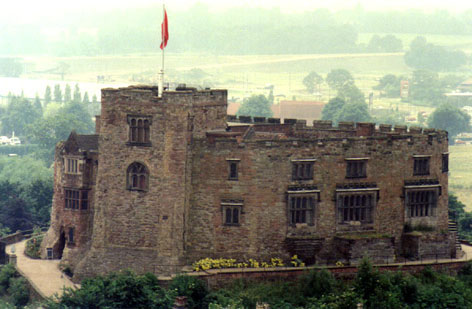 History
The present version of Tamworth Castle was built during the 11th century by the Normans and many additions have been made over the centuries, especially during the Jacobean period.
However, A castle has stood here, overlooking the River Tame in Staffordshire, since Anglo-Saxon times. Currently owned and maintained by Staffs Corporation, 15 rooms of the building and grounds are open to the public.
Also worth noting is that the building was featured in a painting by Joseph-Mallard William Turner in the mid-19th century.
Hauntings
Many strange tales surround the building, such as staff reporting the sound of "furniture being moved around" in the Ferrers Room, blue mist swirling around in the Exhibition Room and the ghosts of two women.
One appearing in white and the other appearing as a black shadow... The white lady is thought to be a woman who was captured and locked away in the tower by Sir Tarquin, her moaning and weeping noises are still heard by people - perhaps she still thinks she's trapped in the tower? The black lady is a nun called Editha, who's order was founded in the 9th century. Apparently the nuns were expelled from a convent nearby by Robert De Marmion and the angry prayers from these nuns called Editha back from her grave.
Marmion, in 1139, was attacked by an unknown entity of a nun - Editha! She foretold his death if the nuns were not restored to (nearby town of) Polesworth. As she was disappearing, she hit the Baron with her crosier and the pain was so intense his screams awoke everyone in the castle. The pain was steady and severe until he vowed to allow the nuns to return to Polesworth. No one knows exactly why Editha is still haunting Tamworth Castle, but she is one of the most frequent ghostly visitors....
Back to the top of Tamworth Castle

Back to the list of UK haunted locations