Smithills Hall, Bolton, Greater Manchester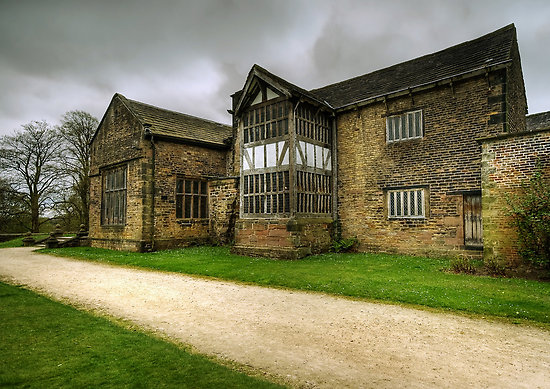 History
Parts of the beautiful, grade 1 listed Smithills Hall date back around 700 years to 1335. Many extensions & modifications took place during the Tudor and Victorian times before the hall was finally sold to the council in the 1930's.
Later, during the 1960's and 1970's the building acted as an elderly ladies residential home, before finally becoming a museum.
But it hasn't always been a peaceful, family friendly place... In April 1555 George Marsh was burned at the steak for his acts of heresy - his "heresy" being his protestant beliefs in catholic rule. Apparently, as he was lead downstairs on the way to his death, he stamped his foot on a flagstone slab and said "my footstep will remain as an eternal reminder of my martyrdom". And yes, the imprint of his footstep still remains visible to this day!
Hauntings
Despite Smithills Hall's grand and noble looking eastwing, the westwing remains desolate and decaying....
Many people complain of being touched on the stairs by the unseen hands of a woman or girl in a seventeenth century dress. In fact, a group of school kids on a trip claimed that they had seen a girl on the staircase in roughly the same era dress. It's this girl who's though to make the many shuffling, and stomping noises on the second floor.
A chapel has existed on site since Saxon times and is one of the buildings most haunted rooms (the "morgue" room in the ex-residential eastwing being the other). All kinds of manifestations have been spotted here, from a lady in grey on a pew at the front, to a skeletal figure near the back, and even George Marsh himself. Many people feel ill at ease in the chapel and experience incredible temperature changes too.
One of the later families to own the hall took a disliking to the George Marsh footprint slab and decided to chisel it up and remove it. It was on doing this that the family and building were pounded with a massive amount of poltergeist phenomena. They became so desperate for it to stop, they actually recovered the flagstone tile and replaced it... and the haunting stopped immediately!
Back to the top of Smithills Hall

Back to the list of UK most haunted places