Queen Mary, Long Beach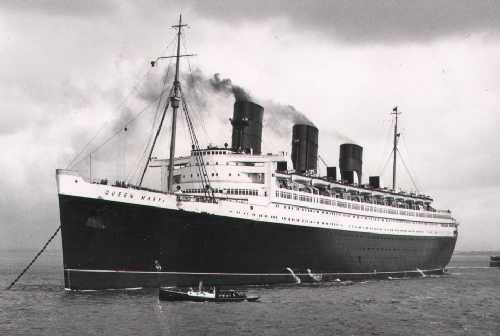 History
The RMS Queen Mary was built in Liverpool by a John Brown Clydebank in 1936. It was used as a commercial passenger transport ship and was awarded the blue ribbon, which is an award for achieving the fastest transatlantic crossing.
Queen Mary was awarded the Blue Ribbon in 1936 and from 1938 until 1952. Since the 9th of December, 1967, the ship has had a static role in Long Beach, California, and serves as a luxury hotel.
Hauntings
The ships engine room is said to be one the most haunted areas on the vessel, with at least 3 people being crushed to death by the infamous "door 13". An apparition of an 18 year old man is said to be seen regularly around this area wearing blue work overalls.
Two other paranormal hot spots on the ship are the 1st and 2nd class swimming pools. Apparitions of women wearing 1930's style swimming costumes have been seen walking around the pool, as well as wet foot prints leading to the changing rooms, also a 13 year old girl clutching a teddy bear is also a common sighting.
One of the scariest areas on the ship is room B340 which is no longer rented out to customers due to "unexplained disturbances". The bed has been filmed moving of its own accord as well as violent, strange sounds and voices. Most psychics believe that a girl or woman was brutally murdered by her slightly derranged husband or father.
In the second class poolroom, the spirit of another little girl named Jackie is often seen and heard. The unfortunate girl drowned in the pool during the days the ship was making it's Atlantic crossings, as her voice, as well as the sounds of laughter can often be heard here.
In the Queen's Salon, a young woman in a white gown has often been seen dancing alone in the corner of the room.
Many other reports of ghostly happenings have been reported throughout various areas in the first-class staterooms. Here, reports have been made of a tall dark haired man appearing in a 1930's style suit, as well as water running and lights turning on in the middle of the night, and phones ringing with no one on the other end.
In the third class children's playroom, a crying baby has often been heard, which is thought to be the infant boy who died shortly after his birth.
Other phenomenon occurring throughout the ship, are the sounds of distinct knocks, doors slamming and high pitched squeals, drastic temperature changes, and the aromas of smells long past.
The ship holds daily tours focused around the paranormal, a placement on such a tour can be reserved by booking at the ship itself.
Back to top of the Queen Mary

Back to Haunted places in California