Prideaux Place, Cornwall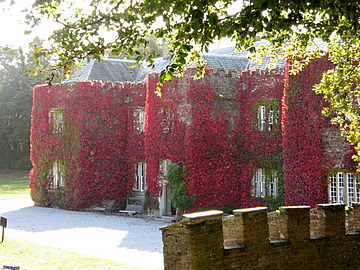 History
Prideaux Place is a beautiful country house in the small town of Padstow in Cornwall. For over 400 years it's been the home of the Prideaux-Brune family. Originally completed in 1592, the building has been enlarged and modified greatly by successive generations.
The house contains many priceless treasures, including royal & family portraits, fine furniture and the Prideaux porcelain collection. Interestingly, of its 81(!) rooms, including 46 bedrooms, only 6 are habitable. The rest are apparently in the same state that the American Army left them at the end of World War II!
Hauntings
Many different spooks have been identified over the years; A young scullery boy who has often been seen in the kitchen and pantry and witnessed running from one to the other. People often feel a sensation of something "rushing" past them in this area. Could this be attributed to the young boy? A 19th century-era woman has been seen "as clear as day" sewing in a chair in the morning room, while on the main staircase there have been many sightings of both a green and a grey lady.
The green lady is also said to haunt the upstairs landing and it is thought that she is Honor Fortescue (the young wife of Humphrey Prideaux) who threw herself off the balcony at the top of the staircase because she was so distraught at his early death. Although, many mediums have picked up on the fact that she may have been pushed by someone else...
The Grenville Room is said to carry within it a terrifyingly oppressive atmosphere, and in the upstairs bedroom a guest was convinced that a supernatural dog was growling at him. He described it as a black shape, with evil, piercing red eyes. Unsurprisingly, he didn't stick around for long afterward to get a better look!
Back to the top of Prideaux Place

Back to Haunted Places in the UK