Palmer house hotel, Sauk centre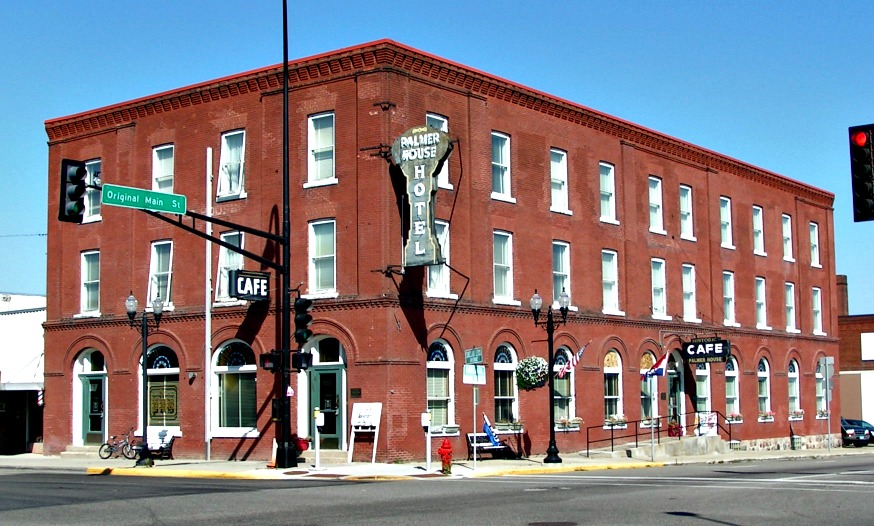 History
The Palmer House hotel was built in 1901 by Ralph L. Palmer on the site of an old building called the Sauk center house which burned down on the 26th of June, 1900. Because of the timing in which it was built it happened to be the very first building in Sauk center to have electricity.


Hauntings
When people think of a haunted hotel they normally just think of a guest that has died there and lingers around the rooms and hallways, but the Palmer hotel is anything but the typical haunting.
Stories about this building are plentiful as they are scary, with the highest concentration of paranormal activity being in rooms 11 and 17. Many guests and staff alike have tales to tell which range from seeing full bodied apparitions of the deceased to unexplainable sounds and the movement of objects.
The most common stories reported by visitors to the hotel include being touched and temperature changes. This may sound quite common in haunted buildings but within this hotel they seem to be alot more direct and powerful. People will often report something like being touched lightly on the arm of the feeling as if someone has brushed past them, but not here. One guest to the hotel reported being actually slapped on the leg while sleeping and another has reported having her hair pulled from behind more than once as if someone was following her and tried to make her stop .
The temperature changes in the hotel are also alot more noticable and quick than most other places. Stories include the whole room suddenly dropping from warm to cold and going straight back again, unexplainable cold air zones and strong breezes when there are no open windows or doors.
Because of the amount of stories about its paranormal happenings at the hotel, it has attracted many investigators and psychics. The travel channel had its "Ghost adventures" crew do an episode on the hotel which was mainly focused on the basement, one of the hotels ghost hot spots.
When the new owners took over the hotel in 1993, Mrs Freese found what appeared to be several rib bones in the basement. She put them into a box but when she returned for them they had disappeared.
The Palmer house hotel has got to be one of the most interesting Haunted hotels i have ever heard of but dont take my word for it when you can stay there yourself.
To make reservations call:

320 351 9100 or 866 834 9100

Hotel reservations are by phone only.
Address:

500 Sinclair Lewis Ave, Sauk Centre, MN 56378, United States
Palmer House Hotel - Back to top