Owlpen Manor, Gloucestershire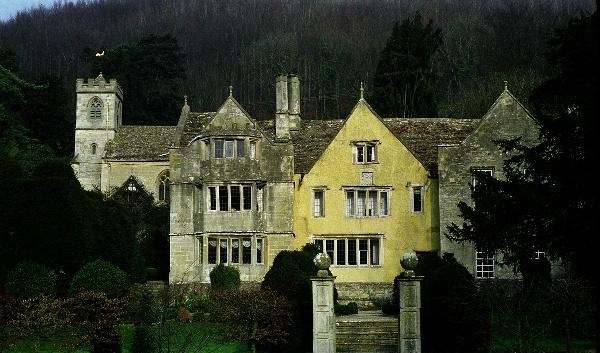 History
Owlpen Manor in Gloucestershire is widely recognised as one of the most romantic early manor houses in England and its been designated by English Heritage as a grade I listed building. The manor house is of medieval origins, but was largely built and rebuilt in the Tudor period by the Daunt family, between 1464 and 1616.
Since then it has hardly been touched except for small improvements early in the 18th century, when the east wing of the house, together with the gardens, church and Grist Mill, were reordered by Thomas Daunt IV between 1719 and 1726.
Both the house and gardens have been open to the public since 1966.
Hauntings
Perhaps the houses most famous ghost is that of Queen Margaret of Anjou, she is said to appear in the night wearing a fur-trimmed gown, steeple hat and wimple. She's been documented appearing in front of WW2 evacuees from Birmingham during the night!
Then there is a wizard and alchemist, believed to be the seventh Thomas Daunt, lord of the manor of Owlpen in Georgian times, the last of his line, who dabbled in the black arts. He stalks the attic floor of the 1616 wing. In his room up a spiral stairway his books and papers had been sealed up for a generation when Parson Cornwall was sent for to destroy them in the 1830s. A bonfire was made, and as the papers caught fire, blackbirds were seen by the awe-struck villagers to fly out from the flames. Others say the ghost was the family tutor, who raised the devil, wrote books on sorcery, and was found dead in his chair.
Other ghosts include a mischievous child, who repeatedly runs up and down the back stairs, disturbing the tranquil sleep of guests, and moves objects in the house. The face of a small child has been seen peering from the oriel windows, on a photograph (pictured below) taken when the house was known to be empty. Many visitors continue to relate the presence of unexplained sights and sounds -- and even scents.
Back to the top of Owlpen Manor

Back to the list of UK haunted locations