Ordsall Hall, Greater Manchester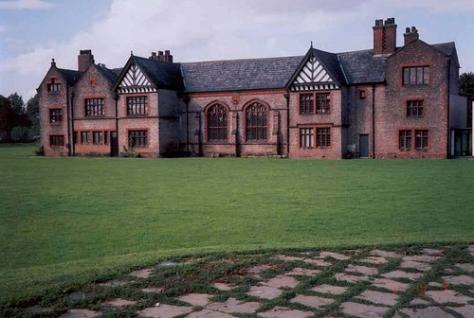 History
Ordsall Hall is a historic house in Salford, Greater Manchester and was formerly a moated Tudor mansion, the oldest parts of which were built during the 15th century. Since its sale by the Radclyffe family in 1662, the hall has been put to many uses; working men's club, school for clergy, and a radio station amongst them.
The house was bought by Salford City Council in 1959, and opened to the public in 1972, as a period house and local history museum. The hall was famously the setting for William Harrison Ainsworth's 1842 novel Guy Fawkes, written around the plausible - although in no way proven... - local story that the Gunpowder Plot of 1605 was planned in the house. Fawkes even has a street named after himself in the village!
Hauntings
It's seems like every Tudor mansion has a ghost story following it, and this one is no exception... In the Great Hall there has often been seen the apparition of a white lady on the raised staging. She's often identified as the ghost of heartbrokenMargaret Radclyffe. The story goes that she died of a broken heart in 1599 following the death at sea of her twin, Alexander, and her restless spirit has been seen and felt in the house ever since.
The hall was a favorite amongst ghosts due to its popular ghost cam. Unfortunately the camera will be down until the hall re-opens around Easter 2011. Over the years, it's captured some fabulous images, some blurry and indistinguishable and others quite clear and shocking. My personal fave picture being the one below. Subtle yet spooky!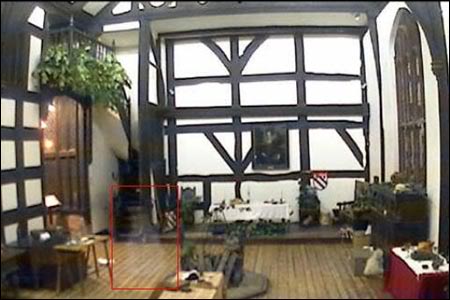 Back to the top of Ordsall Hall

Back to the list of UK haunted locations