Old Newgate Prison, East Granby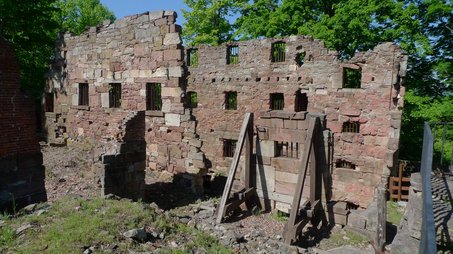 History
Old Newgate prison originally began as a copper mine in the 1700's. In 1773, it was converted into a prison to house serious criminals. The first prisoner John Hinson was committed for burglary in 1773. Later Tories and Loyalists were held here during the Revolutionary War.
It was the first State Prison in America. Newgate ceased operating as a prison in 1827 and re-opened as mine at that time. In 1976 Newgate Prison was declared a National Historic Landmark. The Prison is one of the leading tourist attractions in Connecticut. Newgate is now owned and administered by the State of Connecticut.
Hauntings
This prison has certainly seen its fair share of deaths, when it was operating as a mine, safety conditions were poor to say the least, many miners died within the tunnels from falls and being crushed. Also there were many deaths when it was used as a prison, guards killed inmates, and inmates killed the guards, as well as each other.
Reports of hauntings here include, screams coming from empty areas of the mine, a ghostly face within one of the rooms, and an apparition of a man who appears to be climbing a rope above a shaft as if he were trying to escape. Other stories include unexplainable cold spots, being touched when no one is there, and the feeling of being watched when in empty areas.
There is a story by a visitor to the prison who explains how he went into the mine and was shown around by a tour guide dressed in prison cloths, when he left the mine he thanked one of the other employees for the tour, only to be told that they didn't have anyone working as a tour guide within the mine, could this of been the spirit of a past prisoner?
Back to top of Old Newgate Prison

Back to Haunted places in Connecticut