Netley Abbey, Hampshire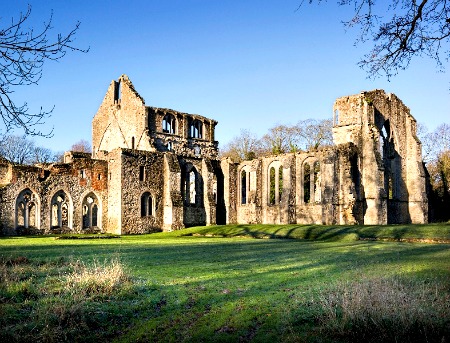 History


Netley abbey is a late medieval monastery which was founded in 1239 as a house for Roman catholic monks.
Although it was a royal abbey it never saw the funding of larger of more important royal abbeys, and due to this it never produced any notable scholars and never became rich.
The abbeys quiet life in the little village of Netley came to a halt in 1536, during the dissolution of the monasteries ordered by Henry VIII of England. The building was turned into a mansion a Tudor politician called William Paulet.

After the buildings use as a mansion and country house it was abandoned and parts were taken to be used as building materials for nearby projects. Since then the building has fallen into a ruin and is now open to the public as tourist attraction. The abbey has been noted for how well preserved it is for a Cistercian monastery and has inspired many a poet and writer.


Is Netley abbey haunted?


Due to its creepy appearance and local folklore, the abbey has built up quite a few ghost stories in its time. It is said that the ruins are cursed, which started when Walter Taylor was hired to demolish the abbey after its use as a country house. The story goes that he was warned in a dream that if he harmed the holy site, he would be punished.

Below is a writing from eighteenth century antiquary Browne Walters, who recorded the origin of the tale:
The earl (sic), it is said, made a contract with a Mr. Walter Taylor, a builder of Southampton, for the complete demolition of the Abbey; it being intended by Taylor to employ the materials in erecting a town house at Newport and other buildings. After making this agreement, however, Taylor dreamed that, as he was pulling down a particular window, one of the stones forming the arch fell upon him, and killed him. His dream impressed him so forcibly that he mentioned the circumstance to a friend, who is said to have been the father of the well-known Dr. Isaac Watts, and in some perplexity asked his advice. His friend thought it would be the safest course for him to have nothing to do with the affair, respecting which he had been so alarmingly forewarned, and endeavoured to persuade him to desist from his intention. Taylor, however, at last decided upon paying no attention to his dream, and accordingly began his operations for the pulling down of the building; in which he had not proceeded far, when, as he was assisting at the work, the arch of one of the windows, but not the one he had dreamed of (which was the east window still standing), fell upon his head and fractured his skull. It was thought at first that the wound would not prove mortal; but it was aggravated through the unskilfulness of the surgeon, and the man died.
— Browne Walters
Apart from Netley Abbey generally being cursed, there are several ghosts here which have been seen before. Apparitions of monks and scholars have been seen roaming the grounds, as well as a ghostly mist which cant been seen in person but shows up thick and in odd patterns in photos.
The abbey is a tourist attraction and open to the general public, if you wish to visit please check with English heritage who will have information on any seasonal opening times or tours.