The Myrtles Plantation ,St. Francisville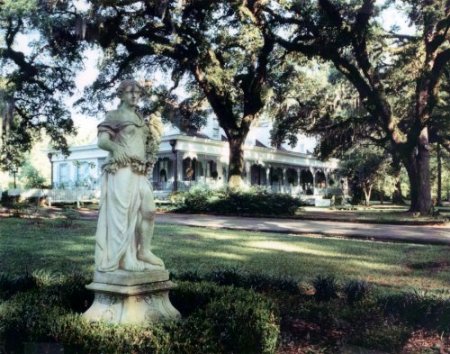 The Myrtles plantation
St. Francisville
Louisiana 7747 U.S Highway 61
P.O. BOX 1100
Tel: 225.635.6277
History
The plantation was built in 1796 by a man named General David Bradford, who was nicknamed as "Whiskey Dave". This 212 year old home is on the national register and has guided mystery and history tours offered almost daily. The building operates today as a bed and breakfast and is regarded as a very pleasent place to stay.
Hauntings
The Myrtles plantation is regarded as one of America's most haunted homes. A profound sense of longing and loss surrounds the air of the mansion. The story of hauntings here is one of the most recognized haunts in the South.
The mansion is positively haunted but debates rage as to who or what is actually doing the haunting. People visiting the mansion have complained about jewelery going missing and waking to find themselves fully tucked into their beds. Strange noises on the staircase, furniture that moves, a grand piano that plays by itself, mysterious handprints on the mirrors and strange things appearing in photographs.
A man named David Bradford originally built a small house on the grounds but supposidely the land had previously been the burial site for at least one Native American tribe and when his builders found bones, Bradford supposedly ordered them burned.This alone could be a possible explaination for the disturbances at the mansion.
As the property was passed through other owners, tragedies mounted. Children died young which was a horribly common occurrence and diseases like yellow fever ravaged families. William Winter was murdered on the front porch of the Myrtles following the Civil War, supposedly rallying long enough to drag himself inside and partway up the main staircase where he died in his wife's arms. In 1886, the Myrtles passed out of the original family's grip forever.
Many ghost hunters and fans of the paranormal that have stayed here have claimed to have experienced some sort of un-explainable activity, although the source of the haunting remains unclear, one thing is for certain and that is that the building is without a doubt haunted, so much so that it seems more than worthy of being classed as one of the ost haunted houses in America.
Return from Myrtles plantation to haunted Louisiana

Return from the Myrtles plantation to all haunted places