Michelham Priory, East Sussex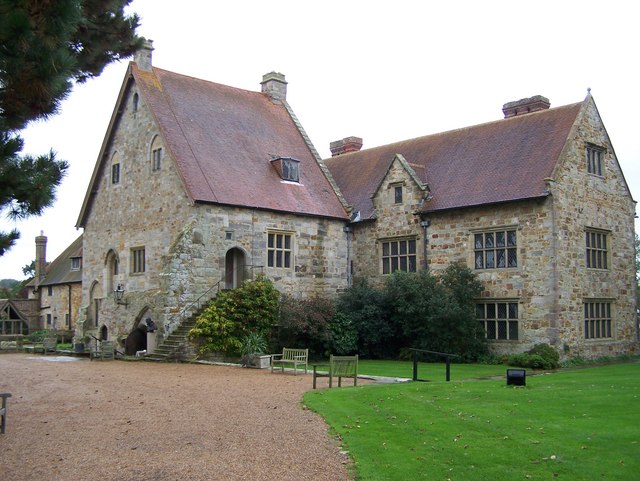 History
Michelham Priory was founded in 1229 in East Sussex with 6 acres of grounds and outbuildings, as well as a moat built by the resident monks to counter a French attack. It acted as an Augustine church for the monks until almost 3 centuries later when, in 1537 it was eventually demolished in 1599 by order of King Henry VIII.
The remaining building was sold to the 1st Earl of Dorset, Thomas Sackville in 1601, then later to James Gwynne in 1896. After acting as a base for Canadian troops during World War 2 the building ended up being entrusted to the Sussex Archaelogical Society in 1959. The building is widely considered as a leading light for paranormal activity, and with good reason too...
Hauntings
Many paranormal sightings are reported at Michelham every year. Many people see hooded Augustinian monks wandering the grounds, many of whom have been reported ascending invisable staircases which have been demolished long ago.
One report even claimed that a hooded figure was spotted in a fireplace, only upon later inspection of the fireplace was it realised that there was still an ancient priesthole blocked up behind! Also a threatening male prescence is regulary picked up on by various mediums.
He's thought to be Robert Henry Sackville, who was a direct relation to the Earl of Dorset. Psychics have also picked up on a mischevious ghost of a little boy called Edward, who lived in the building around 1790. He likes to play the harpsachord, which the Most Haunted crew actually captured on tape in 2006 on the 100th episode special.
The curious thing about this incident was, that even though the sound was captured clearly on the boom microphone, nothing was captured on the mp3 recorder placed right next to the harpsachord... The ghostly grey figure of a woman has been seen looking down into the water outside, could she be the unfortunate mother who lost her child in the moat? Another prevailant spirit is that of a scruffy haired man in a dark red or black coat.
He often terrifies the owners by wandering the stairs and upstairs corridoors in the dead of night. The building IS open to the public, although they do like to downplay the grim ghost stories! Pictured below; Ghostly apparition caught on a night-vision camera during an investigiation during 2005...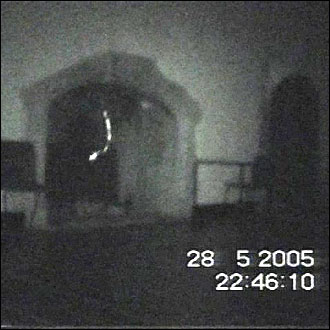 top of Michelham Priory

Back to list the of UK haunted locations