Green Mountain Inn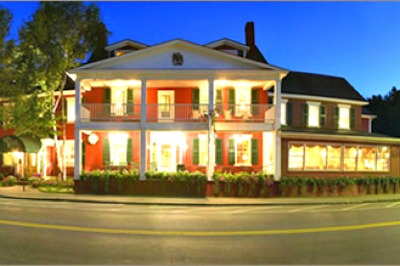 History


The Green mountain Inn was originally built in 1833 by Peter C. Lovejoy. Lovejoy didn't hold onto the property for long though as he traded it with a man named Stillman Churchill for a 350 acres farm.
Churchill changed the name to Mansfield house and added a double front porch, two brick wings and a large dance hall. The building changed hands again and was renamed but operated as a hotel until it was bought by Mark C lovejoy in 1893.
The building had a number of structural additions to it over the years and changed hands again. This trend continued with the additions of the club house rooms in 1993, then between 1997 and 1999 the Mill House and  Old Depot areas were added.
Over the next few years a number of renovations and additions to the Inn were added. The Inn today remains as an operating Inn and is very highly recommended. Stunning rooms and fascinating pieces if history throughout the building are reason enough to come to this beautiful building.

Green Mountain Inn hauntings


There have been reports of just a single ghost that haunts this place, and he is known as Berry Boots. Thought to be a horseman at the Inn, he met his tragic end while being a hero, which is also the reason for his downfall.
As the son of a chambermaid and another Inn horseman, he was born in 1840 at the Inn itself in room 302. When he grew up he took his fathers trade of horseman and worked at the Inn before it was known as Green mountain.

One night outside the Inn a stagecoach pulled up and something spooked the horses which took off running down the road. Berry boots managed to stop the horses and was rewarded with a medal and famed as the local hero. From this point on all the other bars in the area would offer him many free drinks, with certain venues letting him drink for free whenever he liked. This pleasant gesture turned was his downfall though as he succumbed to the temptation of alcohol to often and became addicted, spiraling down until losing his job and eventually landing himself in jail.
It is though that this is were he learned to tap dance from a cell mate. A skill which would earn him the nick name of "Boots".

A few years later in 1902 Boots came back to the area and visited the Inn were he came across a young girl who had been trapped on the roof in a snowstorm. Boots tried to save the girl but in his efforts to do so he fell from the roof and died instantly.
Normally when an individual remains somewhere after death they can make themselves known in a great many ways, but Boots lets people know he is there in one form only. During stormy nights or especially when there is snow falling, the faint sound of tap dancing can be heard from the upper floor or even on the roof, and always when the areas the tapping comes from are empty.
Green Mountain Inn - Back to top
Real haunted places in America