The Golden Fleece, Yorkshire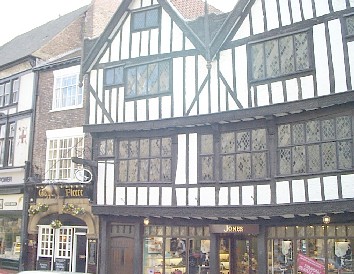 History
The Golden Fleece is a pub and an inn in the center of York and was mentioned in York City's archives as far back as 1503. The back yard of the inn is named "Peckett's Yard" after John Peckett, who owned the premises as well as being Lord Mayor of York in around 1702.
The pub is directly opposite the historic Tudor street called "The Shambles" and has an instantly recognizable fleece hanging above the door.
Hauntings
John Peckett's wife Lady Alice Peckett is said to be one of 5 spirits that haunts the pub and according to the current owners of the inn, many guests still report seeing the late Lady Peckett wandering the endless corridors and staircases during the night.
Lady Peckett is said to present herself as a ghostly apparition and likes to move furniture. Living TV's Most Haunted visited in 2005 with BBC Radio One's Scott Mills.
The crew experienced ghostly phenomena such as taps turning themselves on and a hideous ghostly laugh caught on camera. Monthly investigations are still carried out and tickets can be booked through www.ghostnights.co.uk
Back to the top of the golden fleece

Back to list of UK haunted locations