Fort Knox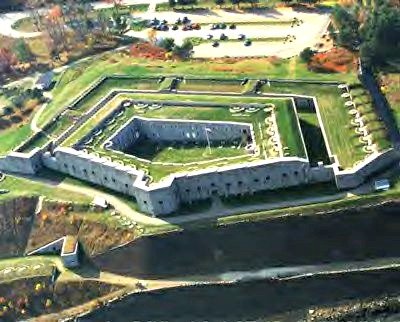 Fort Knox history


Construction on fort Knox began in 1844 but wasn't completed until 1869 due to it being such a huge project.
Situated 5 miles from the mouth of the Penobscot river in the town of Prospect on the western bank. It was named after Henry Knox, who was the first US secretary of war.
The forts purpose was to defend the near by areas which were a major source of lumber for the ship building industry. The fort was permanently manned but never actually saw any combat which is why it is such an excellent visitor attraction.

It was named a national historic landmark in 1970 and now open to the public for tours.


Fort Knox Hautings


This is thought to be in the top ten most haunted forts in America. It has featured on various TV shows and made appearances on many websites and books.
There have been many different paranormal experiences here, ranging from the usual orbs in photos, the some much more terrifying encounters.
The most well known and certainly the most active is thought to be the ghost of Sergeant Leopold Hegvi who was stationed at the fort for a number of years. Though he did not die within the fort itself he seems to have a reason to linger here.
He has most often been seen walking around the walkway on the outer walls peering out over the lands, as if checking everything is safe.

The fort holds tours to the public and on one such tour the guide saw within her group a man dressed in a 19th century war uniform. Thinking nothing of it at the time as there were often people dressed up to replicate fort life, however the man disappeared from the group and later on, the tour guide found out there were no reenactments on site that day, and the man she saw looked just like Sergeant Leopold Hegvi.
Apparitions seem to be the most commonly encountered paranormal activity here, though there are various other reports about ghostly footsteps coming from empty corridors and often the feeling of an invisible presence staring at you.

The fort is an interesting piece of American history and often holds tours around its walls. If you are ever in the area of Prospect in Maine, then i highly recommend a visit, and you never know, you might just get a little bit of history making a visit on you.

Real haunted places in America