Craig-y-Nos Castle, Powys, Wales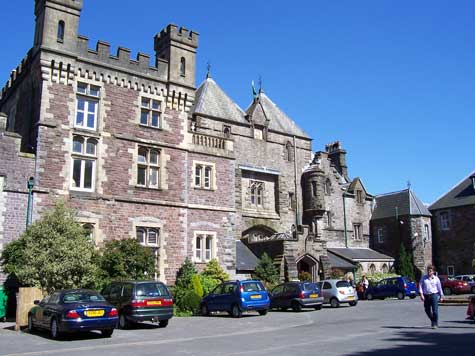 History
Craig-y-Nos Castle is a beautiful country house situated in the Swansea Valley, south Powys in Wales. The building is actually the former estate of opera vocalist Adelina Patti and is now mostly used as a boutique hotel, entertainment venue and for wedding receptions.
The main building was built during the period 1841 - 1843 by Captain Rice Davies Powell and it was said (oddly) that his family were cursed and he went blind and insane... Patti finally bought it in 1878 to develop it as her own estate. She even opened her own 150-capacity theatre in the building.
After Adelina Patti's death, the house was sold in 1922 and was used as a tuberculosis sanatorium for 60 years, during which time it fell into disrepair. In the 1980s it was bought by a consortium of businessmen who began to restore the building, back to the standard that we can see today!
Hauntings
Well, you can probably have a pretty good guess at who the most prominent ghost will be... Yup, Madame Patti. Probably the most famous, documented piece of ghostly phenomena was during an interview in the building.
The crew were in the kitchen discussing the fact that they didn't think Patti ever quite mastered the role of "Carmen", when a large saucepan was unexplainably flung across the room towards them... Another interesting fact is the huge number of guests that have complained about having difficulty in breathing, or a tightening sensation in the chest, most of whom can't possibly know the building was once a tuberculosis hospital!
Back to the top of Craig-y-Nos Castle

Back to the list of UK haunted locations