Chillingham Castle, Northumberland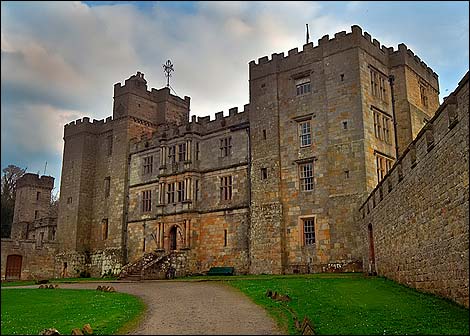 History
Chillingham Castle started life in the late 12th century as a Monastery and later during the Medieval period it acted as an important building between the feuding Scottish and English nations.
In 1617 during the reign of James I, relationships between the Scottish and English settled, leading to the castles' moat being filled in and the battlements being transformed into residential wings and both a library and banquet hall being built.
During the second world war the castle was used as army barracks and fell into disrepair, until the 1980's when the building was purchased and restored by Sir Humpfrey Wakefield. Most of Chillingham Castle is now open to the public.
Hauntings
The building is marketed by the current owners as the "most haunted castle in Britain" and has featured on many television and radio investigations. Perhaps its most famous ghost is that of the "blue boy", sometimes referred to as the radiant boy.
The boy used to haunt the Pink Room and is known as the blue boy because guests would witness a flash of blue light, or a blue halo above their bed in this particular room after hearing a loud wail. This particular haunting apparently ceased after workmen discovered the remains of a man and a young boy inside a ten foot thick wall.
After being examined it was revealed that the finger bones of the young boy had been badly injured, possibly due to clawing at the brickwork in which he had been imprisoned. The owners also claim that John Sage, who was a torturer, and Lady Mary Berkely also haunt the building.
The latter is said to wander the corridors, searching for her husband who ran off with her sister. Below is a ghostly image of a face that was captured in an upstairs window of the castle... Could this be Lady Berkely..?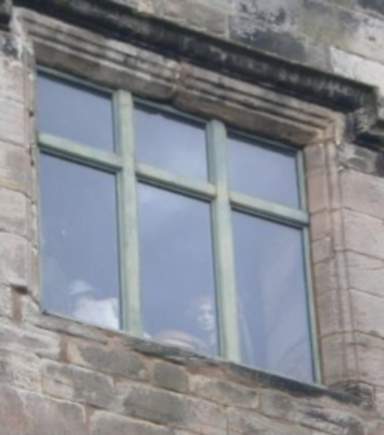 Back to the top of Chillingham Castle

Back to the list of UK haunted locations