Brookdale Lodge, Boulders creek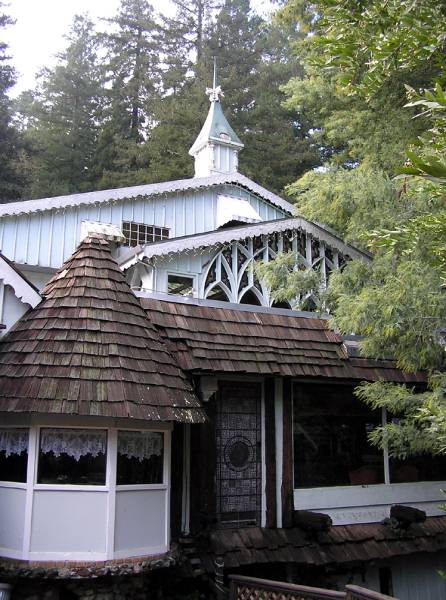 History
Brookdale lodge was opened 1870 and was originally the headquarters of the Grover lumber mill. In 1900, the lodge was purchased by a Mr H.J Logan and converted into camp grounds and a hotel. The lodge has had many owners in its time and during the period between 1922 and 1945, the lodge was a very highly valued place to stay and attracted many famous guests, including that of president Herbert Hoover and Marilyn Monroe. The lodge is still open today as a guest house.
Hauntings
The two most commonly seen ghosts at this location include that of a 6 year old girl named Sarah Logan, who drowned in the dining room creek, it is said she can be seen wearing a white and blue dress walking through the lobby and the near the fireplace between the lounge and brook room.
Another girl also drowned here, in 1972 a 13 year old girl drowned in the mermaid room, forcing its closure. Apparitions of her ghost can be seen through out the building. Many guests and employees have been approached by the ghost of Sarah, who asks them if they can help her find her mummy, but she always disappears soon after the request.
Other reports from this location include the sounds of clinking glass's and plates from empty room's, as well as the sounds of a group of around 10 people having a conversation as if they were around a dinner table.
Room 46 of the hotel is said to be the most haunted, an employee that lived in the room as well as guests who have stayed in there have reported being approached by all different kinds of ghosts, including ball room dancers, a 12 year old boy and men with extreme wounds, quite often on the face.
The lodge was used as a hangout during the 50's for rather shady characters such as gangsters, and many tales of body's being buried under the floor are not uncommon. Various psychics and mediums have visited the hotel and it has been reported that there are 49 spirits at the location, making it more than worth a visit.
Back to top of Brookdale Lodge

Back to Haunted places in California