Bourbon Orleans Hotel, New Orleans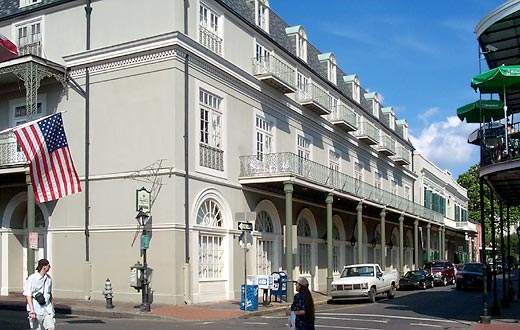 Bourbon Orleans Hotel
717 Orleans Street
New Orleans
LA 70116
Tel: 504-523-2222
History


The original build of what is now the Bourbon hotel dates back to 1817, and was originally the Orleans theater. After war destroyed most of the city's night life the builder of the Orleans theater, a mr John David, was forced to sell the building in 1881 to the sisters of the holy family, who turned the building into a convent.
They stayed there for the next 83 years until the need for expansion forced them to sell the building to hotel interests. Alot of new features were added to the building to replace what the nuns had done but a lot of the original structure still remains.

Hauntings


Ghosts who roam the halls and rooms of the Bourbon Orleans today, lived in all different eras of this building's history. There is the story of the Confederate Soldier or "The Man" that surround both the sixth and seventh floors.
The ghost children and female apparitions found at the hotel are most likely from the era when the Sisters of the Holy Family operated a convent, girls' school, medical ward and orphanage.
The famous Orleans Ballroom, home to the grandest social events of the nineteenth century, is also home of a lonely ghost dancer, seen dancing underneath the ballroom's crystal chandelier. This Hotel ranks as one of New Orleans top haunted hotels.
Below are a couple of the creepiest visitor experience submitted to the site:
by Brenna Ledbettter
(Dallas, Texas )
We stayed in room 527. The third night we were there I heard knocking in the door and banging on the walls. I got up to use the restroom and closed the bathroom door behind me. I could hear loud breathing in the bathroom with me. I froze for a minute and then could distinctly smell cigar smoke in the bathroom when I was the only one in there. I went back to bed and after lying in bed felt someone stroke my arm. My husband was in the other bed ( we had a room with double beds. ) I woke my husband up and we left the lights on the rest of the night.
by Tom L
(Greenville, SC)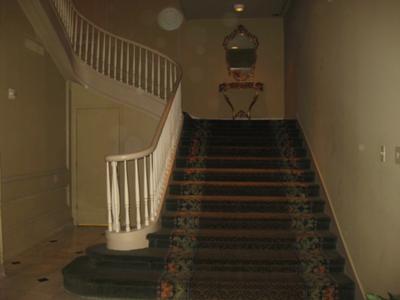 Picture taken at Bourbon Orleans Hotel in New Orleans LA. Picture taken looking up right hand stairwell going up to ballroom, in rear of lobby. I hope this is a dust particle....
Bourbon Orleans Hotel - Back to top