Blickling Hall, Norfolk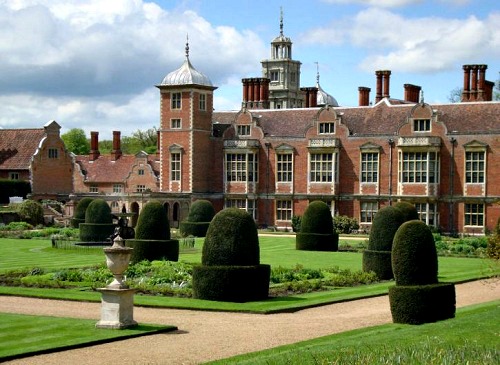 History


Blickling Hall is part of the Blickling estate which covers 4,777 acres of land, including almost 1000 acres of park and woodland.
Built on the ruins of the old Boleyn property by architect Robert Lyminge, this early 17th century stately home has certainly seen its fair share of owners, as well as holding some important English history.
The most well known person to come from this impressive building is that of Anne Boleyn, one of Henry VIII's 6 wives. She was born here in 1507 shortly after the estate left the ownership of Sir John Fastolf of Caister, a knight who made a fortune during the Hundred years war and who's coat of arms can still be seen hanging in the hall today.
During the second world war the hall was requisitioned to help with the war effort, as many stately home and mansions were, to serve as an Officers mess for the nearby RAF Oulton. It was during this time that the estate, including the Hall was passed to the National Trust.
After the war the estate was let out until 1960 when restoration works began on the hall and it was opened to the public in 1962, remaining open to this day as the name Blickling estate. Please check with the venue directly if you wish to visit to check and seasonal opening times.


Is Blickling Hall Haunted?


By far the most famous ghost of Blickling hall is that of Anne Boleyn, who was one of Henry VIII's wives who ended up being beheaded on his orders.

The tales of her haunting here are a little extreme in my opinion, but claims of her ghost have been made by many people. On the anniversary of her death, May 19th she is said to arrive at the Hall in a ghostly carriage carrying her head in her hands and being driven by a coachman and four horses, all headless. Its said that she lingers within the Hall until daybreak, with her apparition being seen dressed all in white and floating through the endless corridors.

The next ghost of the Hall is that of Anne's father, Thomas Boleyn. He was responsible for arranging the marriage of his daughter to the England's monarch which ultimately led to her beheading. He is cursed to cross a dozen bridges a night before the cockerel cries in the morning, with his route being from Blickling to Aylsham to Burg to Buxton Cotishall to Meyton to Oxnead and finally to Wroxham. As he was also beheaded his ghost is seen carrying his severed head in his hands. (Id just like to butt in at this point and say i know exactly how this sounds, but i write about the stories associated with haunted places and leave it you to decide if there true or not, but yeah, i just wanna say i know how this one sounds).

The next ghost is thought to be that of Sir John Fastolfe, a 15th century knight who was the inspiration of Shakespear's "Falstaff". He has been seen wearing a full suit of armor in all areas of the Hall, with him being most commonly sighted around the anniversary of Anne Boleyn's death, which seems to be the point in the year were the paranormal activity here peaks.