Blackpool Pleasure Beach, Blackpool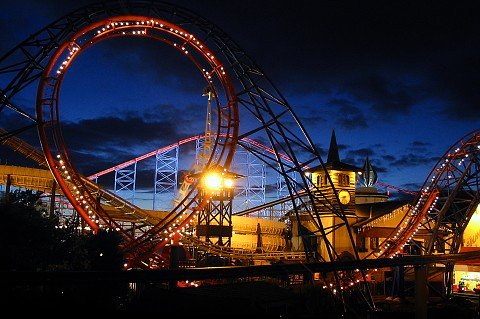 History


Blackpool Pleasure Beach. Everybody's been at some point! I'm willing to bet that you didn't know it was a paranormal hotspot though! Well, the pleasure beach was initially founded in 1896 by William George Bean. Later in 1923 land was reclaimed from the sea front.
It was at this period that the park moved to its current 44 acre location above what became Watson Road, which was built under the Pleasure Beach in 1932. The park is currently home to over 125 rides and attractions.
Pepsi Max Big One was opened in 1994 and is still the tallest, fastest and steepest roller coaster of any park in the world. Personally I hate roller coasters and would probably find a go on the Big One much more terrifying than any ghostly activity that's going on!
Hauntings


The most famous ghost is that of Cloggy - so called because of his choice of footwear (no, he wasn't Dutch!) - the former Ghost Train operator who died in the 1970's. Staff and tourists alike have heard the distinct sound of his footwear as well as a faint apparition around the ride.
Another tale is that of a man who haunts the Star Pub, his apparition has been witnessed in the cellar, living accommodation and Morgan and Griffin Bars. This man has also been seen as a shadowy form and around 3:00 in the morning disappearing behind the bar.
Blackpool pleasure beach - Back to top