Appuldurcombe House, Isle of Wight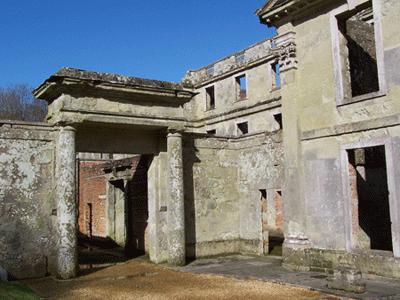 History


Work on Appuldurcombe House began in 1701, which replaced the Tudor mansion which had existed on the site since around 1200. By 1770 the house was owned by Sir Richard Worsley, who had the mansion upgraded greatly. In the mid-nineteenth century the mansion was - albeit unsuccessfully - ran as a hotel for sometime, then as a college for young gentlemen. Even King Henry the 8th stayed here and eventually knighted Sir James Worlsey.
The building was badly damaged during World War II, when a German Dornier 217 bomber dropped a mine very close to the building. Although the front has been treated to new windows and roofing, Appuldurcombe is still an empty shell - one that harbors many ghost stories...
Hauntings


A troubled phantom has been seen rushing up the stairs, with people feeling a brushing sensation move past them. Many people think this may be the ghost of a monk, who is often seen carrying a staff and lantern, or sometimes a candle. In fact, benedictine monks stayed at the manor house in 1901 whilst their abbey was being rebuilt.
In 1567, two unfortunate boys were accidentally blown up by gunpowder whilst playing near the gatehouse. Many visiting people claim they can hear childrens voices and whispering in the area... Although nothing could chill you to the bone like the dark and murky cellar - dark shadows are often seen moving from side to side, and staff and visitors alike often feel like they're being watched by unseen eyes.
Another commonly reported ghost is an elderly lady in one of the cottages situated to the rear of the main house. People often see a luminescent, fleeting glimpse of a white lady in the upstairs window.
Appuldurcombe House - Back to top