Alcatraz Island
San Francisco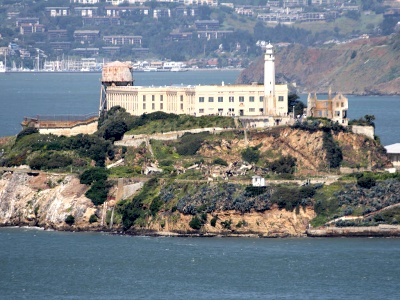 Alcatraz history

Alcatraz island lies 1.5 miles off shore of San Francisco, California. The island's first function was to house a lighthouse and it is still the home of the oldest functioning lighthouse on the west coast of the US.
The island has had various functions over the years, including that of a lighthouse, a military fortification, a military prison and a federal prison, it is known as the most famous prison in the world.
It became a prison in August, 1934 and remained so for 29 years until it closed down in 1963. It today functions as a tourist attraction and wildlife sanctuary.
So is Alcatraz haunted?

Supposedly, Alcatraz is one of the most haunted locations in America. Many reports of ghostly activity include seeing many different apparitions, the sounds of chains clanking and the slamming of doors and moving of objects.
Many people have died on this island since it was first occupied and the potential for it to be haunted is huge. Reports of hearing screams coming from distant, unoccupied rooms are common, as are hearing the sounds of talking, whispering and footsteps through out the prison were the source cannot be identified.
As one could imagine, with such a notorious prison the inmates housed here seem to be responsible for almost all the paranormal activity that goes on in this place.

There are simply to many stories of what has been experienced over the years to list here, but it is certain that this is one place which can safely be classified as having a lot of paranormal activity.

Tours of the prison are held on a regular basis which reach the island by ferry leaving from San Francisco wharf.
This is an absolute must see if your in the area.