what DAVE &CORRINA found under the house
by marlene sanchez
(182 randall aly san bernardino ca 92410)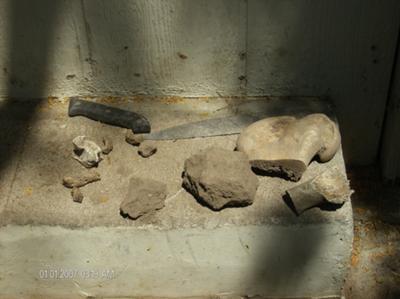 more bones
SO WE LEFT OFF ABOUT THE LADY ON THE WALL .THAT WAS A FRIDAY NIGHT THE LADY APPEARED THEN AFTER THAT WAS ORBS WITH A SMILE FACE ,SO SAT CAME AROUND .


DAVE AND CORRINA GETTING READY TO GO UNDER THE HOUSE .
THEY BOTH NOT SCARED OF ANYTHING MY BOYFRIEND IS A BRAVE GUY ,AND MY FRIEND CORRINA A BRAVE GIRL TO HELP A FRIEND IN NEED.
SO I TELL CORRINA TO TAKE MY CAMERA WITH HER SHE SAYS OK.
AND I TELL MY HONEY TAKE PICTURES ,BUT GUESS WHAT
MY BATTERIES WENT DOWN NO JUCIE AT ALL .
I WAS THERE BUT NOT UNDER THE HOUSE ,JUST WAITING FOR THEM SO THEY FIND SOME BONES ,THEY LOOK LIKE HUMANS BONES .
I CALLED SAN BERNARDINO POLICE DEPT ,THEY CAME OUT THE ANIMAL CONTROL SAID THESE BONES ARE TO BIG TO BE ANY ANIMAL THAT HE KNOWS OF.
ONE COPS SAY THAT THEY LOOK LIKE HUMAN BONES. 2 COPS WENT UNDER THE HOUSE TRYING TO FIND A BODY .
NO LUCK.
BUT THE COPS TOOK THE BONES ANYWAY. WHY DID THEY TAKE THE BONES IF THEY ARE NOT HUMAN ,TELL ME THERE IS SOMETHING GOING ON ?
ANYWAY I GO TO PUT UP MY PICTURES AND I FIND THIS VIDEO ON MY CAMERA .
DON'T ASK ME HOW THIS WAS TAKEN BECAUSE MY BATT.HAD DIED ENJOY THE STORY AND VIDEO YOU MAY NOT SEE ANYTHING JUST HEAR IT .AND TELL ME WHAT YOU THINK THANK YOU . DAVE ,MARLENE AND MY FRIEND CORRINA