Villa Convento Guest House, New Orleans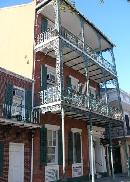 The Villa Convento Guest House
616 Ursuline Ave
New Orleans
LA 70116
Tel:(504)522-1793
History
Rumored to be the 'House of the Rising Sun,' the Villa Convento is a Creole townhouse built in or around 1833. The land was purchased from the Ursulines nuns.
The first owner was Jean Baptiste Poeyfarre, who commissioned the construction of the building. His widow, ten years later, sold the property and building to Octave Voorheis. Mr. Voorheis lost this purchase in the depression following the Civil War, approximately in 1872.
During the following twenty-year period, there were two different owners. On March 10, 1902, Pasquale Taromina purchased the property. The family lived here until February 1946.
The building had various owners after this until it was eventually turned into a guest house and remains as such to this day!
Hauntings
One of the most interesting acd scary stories from this location is from guests who have reported awakening in a certain room to find ghosts staring at them while they sleep, before slowly fading away.
Also the sound of disembodied children's laughter has been reported by others. Rumored to have been a brothel, there may be an eerie Madame who periodically knocks on doors.
Return from the Villa Convento Guest House to all haunted hotels in New Orleans

Return to all Haunted places