Tilly Bend Baptist Church. Blue Ridge Ga.
by Meghan Padgett
(Talking Rock, Ga)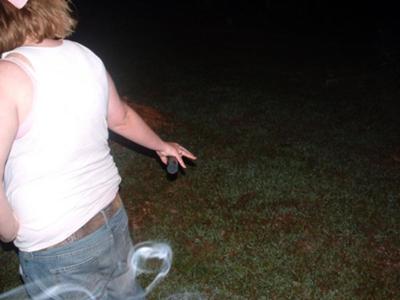 The smoky figure
Hello there I am Meghan. I have been into weird things since I was a child and it's carried on into adulthood. One night last year we were staying in a cabin in Blue Ridge off of Aska Road and my father told me about this graveyard up the road. When my husband and I went up there we found out it was the same one that my husbands mother had been telling him about from when he was a child. She has all of the books about the hauntings in the the Appalachian Mountains.


When we went into the graveyard the first night I was just going to see where my family members were buried (I have family buried all over the North GA mountains.) My Uncle or Great Uncle I dont know what he was to me just knew he was an uncle is buried right when you pull into the grave yard his last name is Farmer and this was right after he was buried there. While at his grave I started to feel like we were being watched which is normal to feel when it is night time in a graveyard. I walked around a little bit and I felt like a child was around. Ever since I had my child everytime I feel a child in need I hurt really bad as in the feeling of labor. Its beyond strange. Any ways I felt this pain and my husband took a picture of me. In the picture there is a smoky figure right behind me. I started walking till I could feel the pain no more. I shined the light down at the grave and it was a childs grave. I was a little spooked out at the time and I left. The next morning we went back up there and saw that most of the graveyard was of children and most were barley marked. I walked to the top of the graveyard and saw there was a grave in the wrong direction... I read the name and went back to the cabin to look into who it was. First I called family members who knew all the names of the family past come to find out
the name was one of them. So I looked into it and the grave was of a witch and many people think if you walk around her grave she will appear blah blah blah. I can tell you now she is very much at home and I didn't feel or see her in the day time or the night time. I looked into the church and found some information about the original minister there... in what I read, the minister was found hung in the old part of the church which is now the meeting hall (area to eat etc.)
Me being the idiot that I am decided to go back up there that night. This time I went with candles I put one on my uncles grave so that he could be safe from what ever was watching (it's something I was told as a child to keep bad away, light a white candle and pray) while there I felt the child again and heard him saying "help me please." He kept tugging me until I was again at his grave. I looked around to see what he was scared of and up the hill over a gravestone I saw a shadow it was a tall man in a black top hat looking thing. He was dressed in a nice suit and just watched the child for a minute than was gone. I have many pictures of this place in day time and in night time. I haven't been up there since and I want to know who the man was. The name on his grave has faded and covered with moss and I couldnt see it.
I didn't write this so that people go up there and play with the dead. I just want to know what is wrong with the child and why this man is watching this place in such a weird way. Why he wanted my help and couldn't find his mother. If you're ever up there the little boy is buried over by the old hall. his stone is laying down. His name is Keith Stanly. I'm sorry if whoever reads this knows this child but something about him pulls me there. I pray he sleeps well now.