The Provincial Hotel, New Orleans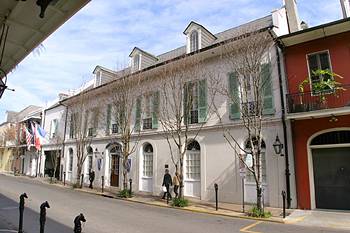 The Provincial Hotel
1024 Rue Chartres
New Orleans, LA. 70116
Phone: 504 581-4995, Fax 504 581-1018
Toll Free reservations 1 800 535-7922
History
The plot upon which the Provincial hotel is located belonged to the Ursuline Nuns. Here a military hospital was erected in 1722. In 1831 Archbishop Leon de Necke, sold the property to Antoine Abat.
Abat sold the building to a lawyer named Dominique Seghers. He tore down the old building and erected two grand houses on the site. In 1848 Francoise Sambola bought the property and ran a boarding house and coffee house. The two houses burnt down in 1874, the present building was built the same year.
The Reuter Seed Company bought the building in 1916. The Dupepe Family acquired the building in 1969 and turned the building into a Hotel and it remains as such ever since. The building has also has many other functions in its time, but the one that is believed to be responsible for the hauntings is when it was used as a civil war hospital.
Hauntings
Many locals, Guest and haunted hotel Staff say you must try to stay Building # 5, it's the most haunted! Many a guest say they have walked into their room and seen many bloody soldiers lying in pain and moaning in their room. Then only to disappear as lights come on.
There are also recent reports of blood stains appearing and disappearing mysteriously on bedding in some rooms. There's even a report that once, as the elevator door opened onto the second floor, the entire hospital was in view.
Many of the other ghost stories at this hotel mostly involve civil war soldiers, foot steps, doors slamming, moans and screams are very commonly reported, a definate place to stay for any ghost hunter.
Return from The Provincial hotel to all haunted hotels in New Orleans

Return to all haunted places