The Andrew Jackson hotel, New Orleans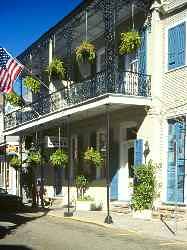 The Andrew Jackson Hotel
919 Royal Street, French Quarter
New Orleans
Louisiana 70116
Reservations: 1-800-654-0224
History
The Hotel is named after a major general of the war of 1812 and located on the site of the famous courthouse where Major General Andrew Jackson was indicted for contempt of court and charged with obstruction of justice.
A major general in the War of 1812, Jackson became a national hero when he defeated the British at New Orleans. The hotel was built shortly after the court house was demolished in the late 1800's.
Hauntings
The hotel sits on a site where five children lost their lives in a devastating fire in the late 1700's. Over the years, guests have reported hearing children playing in the courtyard in the middle of the night, despite the fact that the courtyard was deserted (at least by the living!), people have also claimed to hear small foot steps, as if made by children, as well as some staff members hearing the laughter and voices of children throught the building.
The Andrew Jackson hotel to all haunted hotels in New Orleans

Return to all Haunted places