The Historical Blue Moon 202 Main St. Verona MS
by C. Boswell
(Verona, MS USA)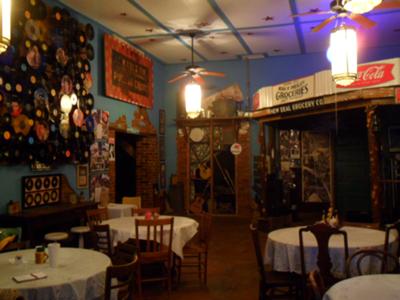 Inside shelf on the far wall by stage microphone fell from
Previous ghost stories were at first shrugged off by me while we started doing restoration to the oldest building in Lee County Mississippi. It had been through the Civil War as an ammunition head quarters for General Nathan Bedford Forest. After that the building was the City Town Hall, jail, post office and bank in the county. The town of Verona was founded in 1860, way before Tupelo MS came into the picture.


Anyway we began restoration on the three building about 7 months ago. While clearing out the Town Hall room, someone whistled inside the room, I was there by myself there was no one inside so I just went on working because of the stories I had heard previously of a ghost I expected it. Well about one month later in the other room the bank I was moving stuff around and heard the same whistle, the same exact tone and tune..this was a definite sign for me I had a presence there that you could not see. Still not freaked out at this point.
We removed the outside overhanging fan fixture that was reportedly taken apart by a ghost because the screws had just came out of the fan blades for no apparent reason and it rests 20 feet high from the floor. We replaced it and two other fixtures with straight fair field hanging lights only.
About one month later, I was standing in the door way looking inside
talking to my husband and I heard this big crash behind me. I turned and it was the glass light bulb from that overhanging fixture that had came falling out. My husband and I inspected this light bulb and the entire metal and glass had been some way unscrewed and dropped from 20 feet above my head. There is not way this could happen. Then at a different day I was talking to a friend inside the bank area discussing the display on a large overhanging shelve. All of a sudden an old oblong metal microphone came falling off the top of the shelve and landed two feet away from me. There was no way this item could of fallen off, it was oblong not round and it was pushed back behind a doorknob. Today we were cleaning out the kitchen area and above us, my husband and I heard a loud thumping noise like bricks were falling. My husband went up to check to see what the noise was and he was a little disturbed because he could find nothing that had fallen anywhere. My husband has also reported that the chairs in our establishment are pushed in at night and when he goes up the next day they have been moved around like someone was sitting at the tables eating..our place is quite pleasant, very relaxing and the ghost is not trying to harm us, just letting us know they are there.