Rio Grande City, Texas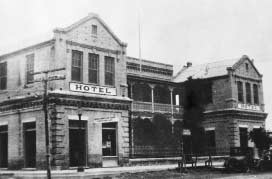 old picture
I investigated at La Borde House with Graveyard Shift Paranormal Investigators and a local Telemundo news crew. One of the investigators on GSPI was scratched and the news crew's camera kept malfunctioning. In addition, we caught two Class A EVPs (one was a disembodied voice of a little girl which we heard without equipment).

There definitely is a tragic history at La Borde House. According to staff, two young girls died in the front well and a man hung himself upstairs. Ownership completely embraces the paranormal reports here. They report full body apparitions, footsteps, and physical contact from spirits. With that said, it's a beautiful Victorian home turned hotel that is listed on the National Register for Historic Places. The LaBorde House was designed in Paris in 1893 by French architects and the plans were refined by San Antonio architects at the building site in 1898. Construction was completed in 1899. Staff was really accommodating and allowed us to stay in the hotel rooms when the investigation was done. I highly recommend this as haunted place in Texas to visit.

It's is a small hotel with rooms for rent. Stay in the "Red Room"

I did not experience this but I do live 5 minutes away from this place and my uncle owns a bar across from this place.
Join in and write your own page! It's easy to do. How? Simply click here to return to Submit a location.