Plymouth Gin Distillery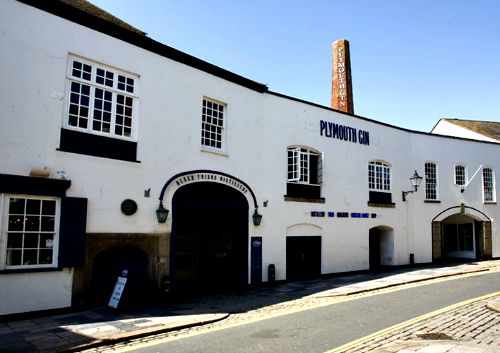 The Distillery's Brief History


The building that the Plymouth gin distillery now sits in was originally built in 1431 as an Dominican order monastery.


Much of the original building has been taken down and replaced or altered somehow, but the refectory room which was once a medieval hall, is still intact from the original construction and even has a hull shape timber roof which was built in 1431.


There is even a story about how the pilgrim fathers spent there last night in England in this building before taking the short trip to the docks and setting off on their voyage to America in 1620.


As for the actual distillery function of the building it has been in operation since 1793, making it one of the oldest, still functioning gin distilleries in the UK.


Today the building, which is also known as Black friars distillery after the brand name, still produces gin, but is also open as a bar with bistro on the first floor. It displays some of its historic gin equipment around the social rooms and has also produced a large amount of promotional items, many of which have become collectibles.

Is the Plymouth Gin Distillery Haunted?


The Plymouth gin distillery is thought to have multiple ghosts residing within its walls, and it seems they are spread across the whole life time of the building.


The distillery has been known to allow ghost tours and all night investigations in the more recent years, with some interesting results. Psychics who have been within these groups have often picked up a major tragic event which happened here, which they claim is a major factor behind the buildings ghostly residents. What this tragedy was though remains a mystery, but one explanation could possibly be from when the building was hit by a firebomb dropped by a German plane during the second world war on the area which is now the women's bathroom. How many people died in this bombing is unknown, but the distillery was temporarily shut down at the time due to rationing on ingredients.


As for the woman's bathroom it is believed to have its own female ghost. Who she is remains unknown but apparently she was stabbed to death here long before the building became a distillery. Some Women who enter the bathroom have claimed to be overcome with an intense emotion of dread, as if they are in immanent danger.


There are a few other ghosts which have appeared so often they now have names. One of the most popular is a young girl named "Lucy", who's apparition has been seen in all areas of the building, often appearing with a friendly, playful aura.


The still room has a male ghost named "Charles" who is thought to be a past worker of the distillery and for some reason has a dislike towards women. Some women within this room have reported having their hair pulled by unseen hands, or the feeling as if someone if rudely barging past them, though of course no one is seen at the time.


Another apparition of a female ghost named "Elizabeth" has appeared on occasion within the bar and bistro areas, thought to be a prostitute who met an unfortunate end in the building, though her story is unknown.


Apart from this the refectory room, which was once a medieval hall has had the apparitions of monks appear within it, though these claims are very rare and apart from the odd sighting, they have never made themselves known in any other way.