Our Haunted Rental
by Heidi
(Ames, Iowa)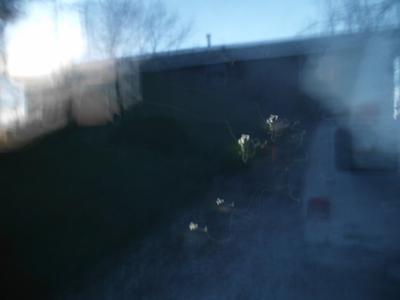 Man looking down
In the early winter last year I had been searching online for a dog to adopt, and found one on a very reputable adoption site I had come across in my searches. They had no problem allowing the adoption but since the dog was in a foster dog home over an hour and a half from us, we could not meet and meet the dog prior to adoption like normally done, instead spent time getting to know about the dog I chose via email and numerous phone calls back and forth. One thing they did ask me to do was to photo the house he was going to be moving into, on the inside as well as the outside, and explained that this dog had been removed from a filthy run down home that had to be condemned afterwards because it was so nasty, and as an extra precaution for his future placement, they would need to see that his living conditions were going to be clean and safe upon his adoption. This wasn't a problem, so I took the following pictures and when I uploaded them onto my computer to send, I just couldn't believe what my digital 14 pixel camera had also caught!


The pictures were taken while still light out- it was near dusk, not dark out yet at all... but looking at the picture it would seem as though some of the images were done while still light out, and then others look like it's dark and much later-- these pictures were taken in 5 minutes, one after the other- so I could get them sent right away to the pet adoption people. Notice the ghostly image of a man's head, looking downward, in the very right upper corner of this picture? And, since my house faces to the exact east on the front side, exactly west is the backside... then why is there a large opening where light is shining in-- to the left? If this was the sunset, then it would be more to the middle of the house, directly behind the front door on the back of the house is where the sun sets, not to the left- or south side of the house! It's a weird opening of brightly beaming light coming out, and not the sun setting... So, what is it then? The second photo was shot within a minute or two, after the first one, but it looks as though it was already dark out, which it wasn't! Notice the image standing at the back door looking out? There was no one else at the house when I took this picture- no one I could see with the naked eye anyway!
I did not alter these images whatsoever, I simply uploaded them from my camera to my computer. Let me know what your thoughts are- or if you think I'm seeing nothing here!