Crazy Orb Flips Out Right Next To Me!
by Robin H.
(Sunnyvale, Ca)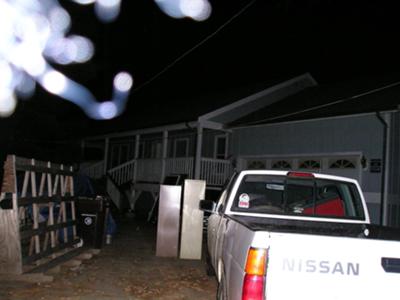 Best Orb Shot Ever!
I had been taking pictures near a friends house for a year before I ever got an orb photo. They showed up the first time my granddaughter came over & they've been there ever since.
The 1st picture is the 2nd one I got with an orb actually moving, but this is moving incredibly fast! There is so much movement I wonder if it isn't 2 of them fighting or something like that. lol
The one taken in pitch black along a country road, you can barely see some trees in the background reflecting the flash. When I saw the picture in playback I thought there was some kind of plumbing in the sky!
The last photo I was just taking random pictures hoping to get orbs (I do that ALL the time) and this 'wing-tip' looking thing is way up above the chimney in a 2-story house! There was nothing that I saw in the sky...it only showed in the picture. It's pretty whatever it is!