CHEESMAN PARK, DENVER, COLORADO, USA
by ~JC
(Minneapolis, Minnesota USA)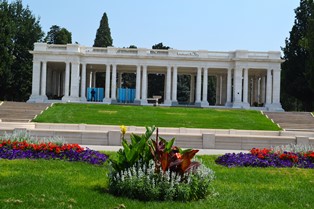 Pavillion from a distance
I was extremely disappointed that my husband and I had to return to Minnesota the same day that we visited Cheesman Park, because we weren't able to visit there after dark. Rumor (and documented incidences) have it that it's quite a haunted location after dark.


History explains that many years ago, the city repeatedly buried their dead who had been paupers by just digging holes in in the ground in what is now known as Cheesman Park. The poor even were buried in mass graves there; and particularly where the pool and the marble floored, semi-closed-in Pavillion where today people have weddings performed. There was an eerie sensation about the Pavillion.
The history is documented on stone there, and even mentions that some of the rolling hill areas are more than likely earth covered holes in the ground where bodies of the poor were carelessly disposed of.
It is even rumored (believe it or not) that all of the lush greenery and flowers flourish so remarkably well due to the human, underground fertilizer provided by the countless bodies that were disposed of there!
If you're ever in Denver, this is a location that would be well worth your time to visit AFTER dark!!
(My hope is that if someone is able to visit here after dark, you will take time to post your findings here on Haunted Hovel.) ~JC